Cisco UCSB-B420-M4 Barebone System Blade - Intel C610 Chipset - 4X Processor Support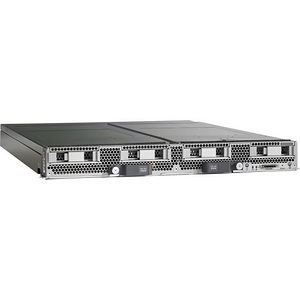 Highlights
Number of Processors Supported: 4
Maximum Memory: 3 TB
Memory Standard: DDR4-2133/PC4-17000
Product Type: Barebone System
Need Help? Let's talk about it.
$4,398.44
Cisco UCSB-B420-M4 Barebone System Blade - Intel C610 Chipset - 4X Processor Support
Highlights
Number of Processors Supported: 4
Maximum Memory: 3 TB
Memory Standard: DDR4-2133/PC4-17000
Product Type: Barebone System
The Cisco Unified Computing System™ (Cisco UCS®) unites networks, storage, and management fabric and revolutionizes server deployment, enabling a flexible, stateless computing environment for Cisco UCS B-Series Blade Servers and C-Series Rack Servers. With this unique approach, Cisco UCS reduces total cost of ownership (TCO) and increases business agility.
The Cisco UCS B420 M4 Blade Server expands the Cisco UCS 4-socket blade portfolio.
Features and Benefits
Designed for demanding virtualization and database workloads, the Cisco UCS B420 M4 combines a large memory footprint with 4-socket scalability, using the Intel® Xeon® processor E5-4600 v3 product family. The Cisco UCS B420 M4 supports 2133 MHz DDR4 memory and uses UCS Cisco virtual interface card (VIC) technology to achieve up to 160 Gbps of aggregate I/O bandwidth, all in a dense, full-width blade form factor. The Cisco UCS B420 M4 maintains memory performance even as capacity grows. In addition, with the large power envelope of the Cisco UCS 5108 Blade Server Chassis, the Cisco UCS B420 can handle up to 3 TB of memory without compromising CPU speed or core count. Up to four Cisco UCS B420 M4 Blade Servers can be installed in the Cisco UCS 5108 Blade Server Chassis.
The Cisco UCS B420 M4 is centrally managed using Cisco UCS Manager. Cisco UCS Manager provides a single management interface for all hardware and software components of a Cisco UCS domain. Cisco UCS Manager manages up to 160 servers, using Cisco® SingleConnect technology to consolidate network, storage, and management traffic. With Cisco UCS Central Software, management can be extended globally to thousands of servers in multiple domains.