Edimax SP-2101W V2 Smart Plug Power Saving Device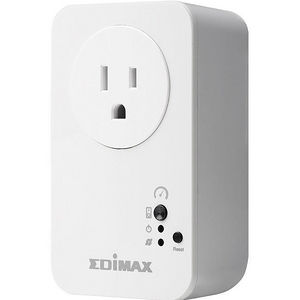 Product Highlights:
Product Type: Power Saving Device
Application/Usage: Smartphone | Tablet PC
Compatibility: Apple Products:

Product Type: Power Saving Device
Need Help? Let's talk about it.
Ask and Receive.
The Edimax Smart Plug Switch with Power Meter connects people to their homes, and the things they use every day. Designed to make homes more dynamic, functional and work better for modern lifestyles, Smart Plug products give users intelligent control over all of their home electronics.
The Smart Plug Switch with Power Meter plugs into any wall socket and enables you to switch or schedule a connected electronic device on/off from your smartphone. The embedded power meter allows you to monitor and manage power usage. The Smart Plug can be set to be switched off automatically when a user-defined usage limit is reached, while also send notification emails about power-related alarm events. Just plug an appliance into the Smart Plug Power Meter and see how this smart device can work for you and your home.

Voice cue control. Convenient.
Switch your electronics and appliances on or off via Amazon Alexa. Talk to gain full control!
Monitor and Manage Your Power from Anywhere
Our Smart Plug with Power Meter is a new generation of smart plug for your home. Use your smartphone or tablet to switch things on or off and monitor the status and power usage of your appliances from anywhere. Get valuable data about power usage around your home. With daily, weekly and monthly stats available, the smart plug helps you identify where you can save energy. Presented in easy-to-understand visuals in our free smartphone & tablet home-management app, monitor, control and schedule have never been easier.
Instant Savings With Auto Budget
Start saving money right out of the box with our built-in budget feature. Set a daily, weekly or monthly power limit for your appliance and the Smart Plug will automatically switch off and give you an email alert upon hitting the limit. You can set the limit and view your history, in kWh or in real currency ($s), for a genuine, easy insight into how much you spend on each appliance, and determine a switched off schedule or limit. Each Smart Plug with Power Meter stores your history for up to twelve months long. Analyze, find out exactly what's draining your budget, and min-max your appliance usage. You'll be surprised by how much you can save!
Intelligent Home Control with Voice Commands
Helpful, Safe and Efficient
Build an intelligent, energy-efficient home with Smart Plugs, which are designed to make homes work better for modern lifestyles. A Smart Plug with Power Meter will keep you updated with helpful email alarm notifications and budget alerts, and can provide daily, weekly or monthly power usage reports. It offers a peace of mind that your home is safe - check the status of appliances remotely when you're out so you'll never have to worry about leaving something switched on again. Save money, lead an energy-efficient life and stay connected every day.
Easy Setup & Smart Notifications
Setup couldn't be any easier and is all done on your smartphone or tablet. Once the Smart Plug is up and running, email notifications can keep you updated with alarm events, which appliances and electronics are switched on/off via the EdiSmart app, and receive power usage reports and notifications of over budget! This helps you stay in a comfortable home environment while in full tracking control of the power usage of the intelligent, convenient, yet energy-busy home appliances.

1. Download and launch the free EdiSmart app. Create an Edimax account.
2. Plug the SP-2101W V2 into an outlet and connect it to your smartphone.
3. Open the EdiSmart app again to complete the installation.