Kramer RC-IR3 IR remote control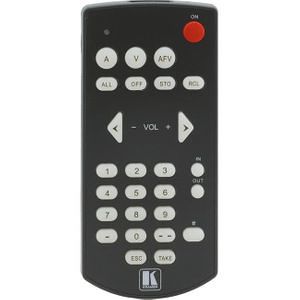 Highlights
Category: Keyboards and Input Devices
Subcategory: Remote Controls
Manufacturer: Kramer
MPN: RC-IR3
Need Help? Let's talk about it.
$116.00
Kramer RC-IR3 IR remote control
Highlights
Category: Keyboards and Input Devices
Subcategory: Remote Controls
Manufacturer: Kramer
MPN: RC-IR3
The RC-IR3 is an infrared wireless remote control unit for all Kramer IR controllable switchers. The remote can switch up to 96x96 inputs and outputs.
Memory Locations - Stores up to 99 multiple switches as presets to be recalled and executed when needed.

Kramer Universal Remote - Includes the protocols of all Kramer devices and is programmable to control any Kramer machine.

Non-volatile Memory - Retains the last setting, even after the power supply is interrupted.

Transmits to Built -in and Remote Receivers. - Range up to 15m (50ft) or 60m (200ft) with optional external IR receiver (C-A35M/IRR-50) and 3 extension cables.