Mellanox MSX6025F-1SFS SWITCHX-2 36PORT QSFP FDR 1U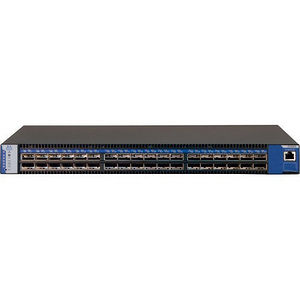 Highlights
Compatible Rack Unit: 1U
Condition: New
Category: Network Hardware
Subcategory: Hubs & Switches
Need Help? Let's talk about it.
$8,171.32
Mellanox MSX6025F-1SFS SWITCHX-2 36PORT QSFP FDR 1U
Highlights
Compatible Rack Unit: 1U
Condition: New
Category: Network Hardware
Subcategory: Hubs & Switches
Scaling-Out Data Centers with Fourteen Data Rate (FDR) InfiniBand
Faster servers based on PCIe 3.0, combined with high-performance storage and applications that use increasingly complex computations, are causing data bandwidth requirements to spiral upward. As servers are deployed with next generation processors, High-Performance Computing (HPC) environments and Enterprise Data Centers (EDC) will need every last bit of bandwidth delivered with Mellanox's next generation of FDR InfiniBand high-speed smart switches.
FDR
FDR InfiniBand technology moves from 8b/10b encoding a more efficient 64/66 encoding while increasing the per lane signaling rate to 14Gb/s. Mellanox end-to-end systems can also take advantage of the efficiency of 64/66 encoding using Mellanox FDR 10 supporting 20% more bandwidth over QDR using the same cables/ connectors designed for 40GbE.
Sustained Network Performance
Built with Mellanox's latest SwitchX® InfiniBand switch device, the SX6025 provides up to thirty-six 56Gb/s full bi-directional bandwidth per port. These stand-alone switches are an ideal choice for top-of-rack leaf connectivity or for building small to extremely large sized clusters.