Diamond DS6950 Multimedia Ultra 4K/5K Docking Station, Type-C and Type-A USB Laptops/Desktop PCs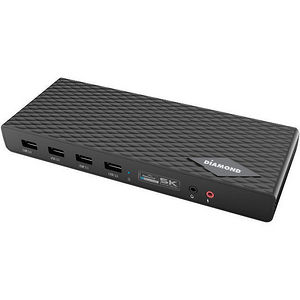 Product Highlights:
Product Type: Docking Station
Host Interface: USB Type C
Condition: New
Category: Computers and Portables
Need Help? Let's talk about it.
The Diamond Ultra-Dock 5K is fully certified by Display Link. Plug and Display
The Diamond DS6950 offers unbeatable universal connectivity. The back side features a Gigabit Ethernet port, two 4K HDMI ports, two 4K Display Ports which can be combined to connect a 5K monitor, two more USB 3.0 ports, and a USB-C port. The USB-C PORT can be connected to a USB Type-C computer and is backward compatible with USB Type-A. Compatible cables are included.
Compatible with both Type-C and Type A laptops
Supports resolutions up to 5K when using dual DP simultaneously
Dual 4K HDMI/Dual DisplayPort /4K HDMI + 4K DisplayPort Output