EVGA 03G-P4-6160-KR GEFORCE GTX 1060 GAMING, ACX 2.0 (SINGLE FAN), 3GB GDDR5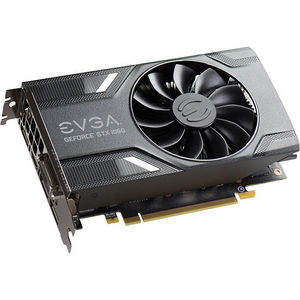 Highlights
Standard Memory: 3 GB
GPU Clock: 1.51 GHz
Number of Monitors Supported: 4
Cooler Type: Fan Cooler
Need Help? Let's talk about it.
$248.40
EVGA 03G-P4-6160-KR GEFORCE GTX 1060 GAMING, ACX 2.0 (SINGLE FAN), 3GB GDDR5
Highlights
Standard Memory: 3 GB
GPU Clock: 1.51 GHz
Number of Monitors Supported: 4
Cooler Type: Fan Cooler
The EVGA GeForce GTX 1060 is loaded with innovative new gaming technologies, making it the perfect choice for the latest high-definition games. Powered by NVIDIA Pascal - the most advanced GPU architecture ever created - the GeForce GTX 1060 delivers brilliant performance that opens the door to virtual reality and beyond.