EVGA 02G-P4-6157-KR NVIDIA GEFORCE GTX 1050 FTW GAMING GRAPHIC CARDS ACX 3.0, 2GB GDDR5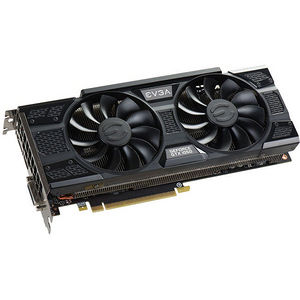 Highlights
Standard Memory: 2 GB
HDMI: Yes
GPU Clock: 1.44 GHz
Number of Monitors Supported: 3
Contact sales for pricing
Need Help? Let's talk about it.
Contact sales for pricing
EVGA 02G-P4-6157-KR NVIDIA GEFORCE GTX 1050 FTW GAMING GRAPHIC CARDS ACX 3.0, 2GB GDDR5
Highlights
Standard Memory: 2 GB
HDMI: Yes
GPU Clock: 1.44 GHz
Number of Monitors Supported: 3
The EVGA GeForce GTX 1050 hit the perfect spot for that upgrade you know you need, but at the price you want! With the latest NVIDIA Pascal architecture, the 2GB GTX 1050 displays stunning visuals and great performance at 1080p HD.

This card also features EVGA ACX 3.0 cooling technology. EVGA ACX 3.0 once again brings new and exciting features to the award winning EVGA ACX cooling technology. SHP gives increased heatpipes and copper contact area for cooler operation, and optimized fan curve for even quieter gaming. Of course, ACX 3.0 coolers also feature optimized swept fan blades, double ball bearings and an extreme low power motor, delivering more air flow with less power, unlocking additional power for the GPU.

If you've been waiting for that card that gives you the performance to take back the competitive edge, but without taking out your wallet, then the GTX 1050 is the card for you!