EVGA 01G-P4-2650-KR GeForce GTX 650 Graphic Card - 1 GB GDDR5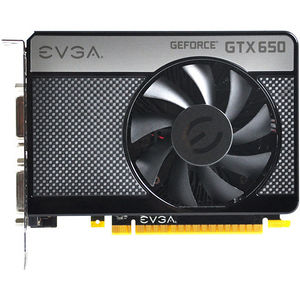 Highlights
Standard Memory: 1 GB
HDMI: Yes
GPU Clock: 1.06 GHz
Number of Monitors Supported: 3
Need Help? Let's talk about it.
$228.85
EVGA 01G-P4-2650-KR GeForce GTX 650 Graphic Card - 1 GB GDDR5
Highlights
Standard Memory: 1 GB
HDMI: Yes
GPU Clock: 1.06 GHz
Number of Monitors Supported: 3
If you're passionate about first-person shooters like Call of Duty, massively multiplayer online games like World of WarCraft, or real-time strategy games like StarCraft II, GeForce GTX is for you. And your first step into GeForce GTX gaming is the EVGA GeForce GTX 650.