Seagate's Answer to Mass Data Growth
Discussion arose last year of Seagate® developing a 20 Terabyte 3.5-inch SATA and SAS hard drive that can be used 24/7 by data centers, and these new high capacity storage devices officially launched at the tail end of 2021.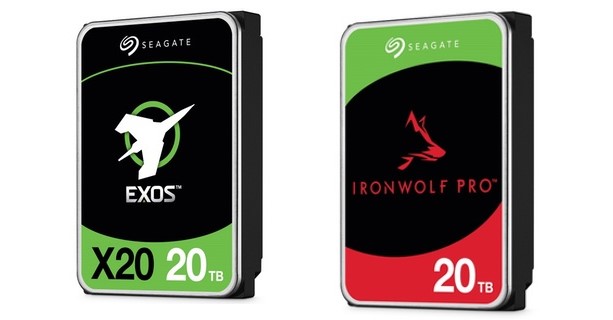 The Ironwolf® Pro and Exos® X20 20TB hard drives both feature helium seals, high workload rating, CMR architecture, and maximum drive speeds of 285MB/s. For those concerned about early adoption, 20TB Hard drives have already been used by the likes of companies such as Facebook, Google, Amazon Web Services, Azure, and other industry leading companies. Pricing for each version of the 20TB Seagate HDD series is definitely increasing along with storage capacity, but the need to secure data continues to drive demand.

Seagate Ironwolf Pro 20TB Hard Drive

Seagate Ironwolf Pro hard drives remain one of the biggest in the NAS (Network Attached Storage) market, offering a better price point than most, while still delivering top-level performance and endurance. As well as the inclusive business-level data recovery services included with the Ironwolf HDDs (i.e., 5 years standard warranty and 3 years of data recovery coverage in case of failure), the HDDs are also designed to be used 24/7 in both home and business NAS systems.
The Seagate Ironwolf Pro 20TB hard drive is part of the Ironwolf Pro series, so it has an impressive workload rating of 300TB, 5-year warranty, 7200RPM, 256MB cache, and is perfect for rackmount arrays that are much, much larger. Even though it isn't likely to be the quietest drive, it is likely to be dwarfed by the active cooling systems of the most conservative NAS solutions for business.
This drive is unique on the market due to its capacity and exclusivity.
Seagate Exos X20 20TB Hard Drive
Due to its server design and deployment, the Seagate EXOS series is often compared to the Seagate Ironwolf series but has a much greater focus on HEAVY workloads.
Seagate's 20TB Exos hard drive offers a heavy 550TB workload limit, an option for SATA or SAS interfaces, 7200 PRM technology, and a 2.5 million hours MTBF.
Built with cloud storage in mind, the 20TB Exos X20 delivers performance for hyperscale data centers and massive scale-out applications. With low latency of 4.16ms and repeatable response times, Exos X20 provides enhanced caching that performs up to three times better than solutions that only utilize read or write caching. Exos X20 also delivers an increased sustained data rate (SDR) of up to 285 MB/s.
With available Seagate Secure™ technology and a 2.5M-hr MTBF rating, enterprises count on Exos X20 to realize their greatest data and operational efficiencies, and highest storage densities in the datasphere.
The Exos X20 HDD can be paired with Seagate's recently announced Exos CORVAULT™ intelligent storage system to deliver maximum data density in a small footprint. Built on Seagate's 4U chassis accommodating 106 Exos enterprise drives in only seven inches (18 cm) of rack space, CORVAULT offers over 2.12PB of SAN-level performance built on Seagate's breakthrough storage architecture.
Let's take a look at some comparisons:
| | | |
| --- | --- | --- |
| Specifications | Ironwolf Pro 20TB | EXOS 20TB X20 Series |
| Product Family | SEAGATE IRONWOLF PRO | EXOS X20 |
| Capacity | 20TB | 20TB |
| Standard Model Number | ST20000NE000 | ST20000NM002D |
| SED Model | / | ST20000NM003D |
| SED FIPS Model | / | ST20000NM005D |
| Helium Sealed Drive | Yes | Yes |
| CMR | Yes | Yes |
| RPM | 7200 | 7200 |
| Cache | 256 | 256MB |
| Sustained Read | 285MB/S | 285MB/S |
| Sustained Write | 272MB/S | 272MB/S |
| Random Read 4K QD16 | / | 165 IOPS |
| Random Write 4K QD16 | / | 550 IOPS |
| Average Latency | 5.5 | 4.16 |
| Idle A(W) Average | 7.7W | 5.8W |
| Vibration, nonoperating: 2 to 500Hz | 2.27 | 2.27 |
| Shock, Operation 2ms | 32 | 40 |
| MTBF | / | 2.5 million |
| Power-on Hours per year | 8760 | 8760 |
| Warranty | 5 years | 5 years |
SabrePC will be getting stock of these new hard drives soon. In the meantime, here are some great alternatives if you need something now:
Have any questions? Feel free to contact us about any storage needs.