AMD 3D V-Cache for Massive Gaming Gains
As the last CPU on their Zen 3™ Architecture, AMD displayed some incredible improvements to their lineup. The AMD Ryzen™ 7 5800X3D averaged a 15% increase in gaming performance over their existing Ryzen CPUs. AMD has kept all components the same as the Ryzen 7 5800X – 8 cores, 16 threads, and 7NM TSMC chip die – on the same AM4 socket with the only change being the cache.
AMD also stacked 64MB of additional AMD 3D V-Cache™ on top of the CPU all while retaining the same form factor height, meaning no generational changes to coolers or clearance issues and can be integrated very easily into existing Ryzen AM4 computer builds.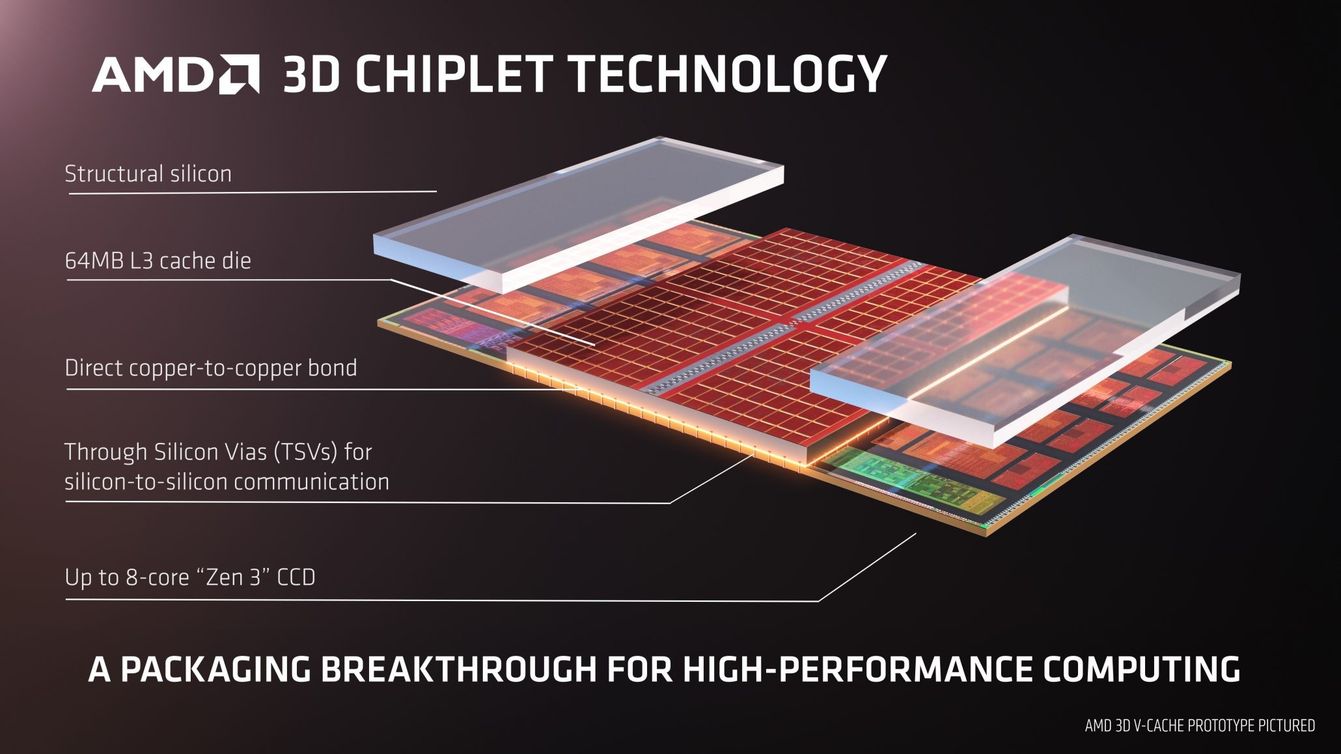 To stack V-Cache the CPU undergoes extremely precise die thinning and the additional 64MB of cache is stacked on top of the CPU. With the industry's first hybrid copper-to-copper bonding and through-silicon via the cache and CPU are bonded with extreme high-density interconnectivity. The die-thinning process provides a unique bump-less design that helps the CPU achieve higher processing power at less wattage. The 3D V-Cache doesn't cover the entire die so there are silicon structural supports surrounding the V-Cache die for optimal CPU to L3 cache connection.
The Ryzen 7 5800X3D is the gaming version of the Ryzen 7 5800X. Here are some notable similarities and differences:
| | | |
| --- | --- | --- |
| | Ryzen 7 5800X3D | Ryzen 7 5800X |
| Cores | 8 | 8 |
| Thread | 16 | 16 |
| Base Clock | 3.4GHz | 3.8GHz |
| Boost Clock | 4.5 GHz | 4.7 GHz |
| L3 Cache | 96MB | 32MB |
| Manufacturing Process | TSMC 7NM | TSMC 7NM |
| CPU Socket | AM4 | AM4 |
| Overclocking Support | No | Yes |
| TDP | 105W | 105W |
The table shows a massive L3 cache increase of 3 times. With a higher cache, gaming performance will increase due to the almost instantaneous communication between CPU memory without having to rely on accessing system RAM (which takes 10 times longer). Any random action in-game (such as turning the corner in Forza Horizon) needs to access memory loading new textures, new animations, sound, physics, in-game CPU reactions, etc. With an increase in the cache, the CPU can access that random memory information much quicker from the L3 cache stacked on top, as opposed to fetching it from the RAM on the motherboard.
AMD is effectively eliminating the cache bottleneck that some CPUs experience today with triple-A titles. The Ryzen 7 5800X3D has broken the FPS barriers of many different CPUs and delivers blistering gaming performance when paired with exceptional supporting components.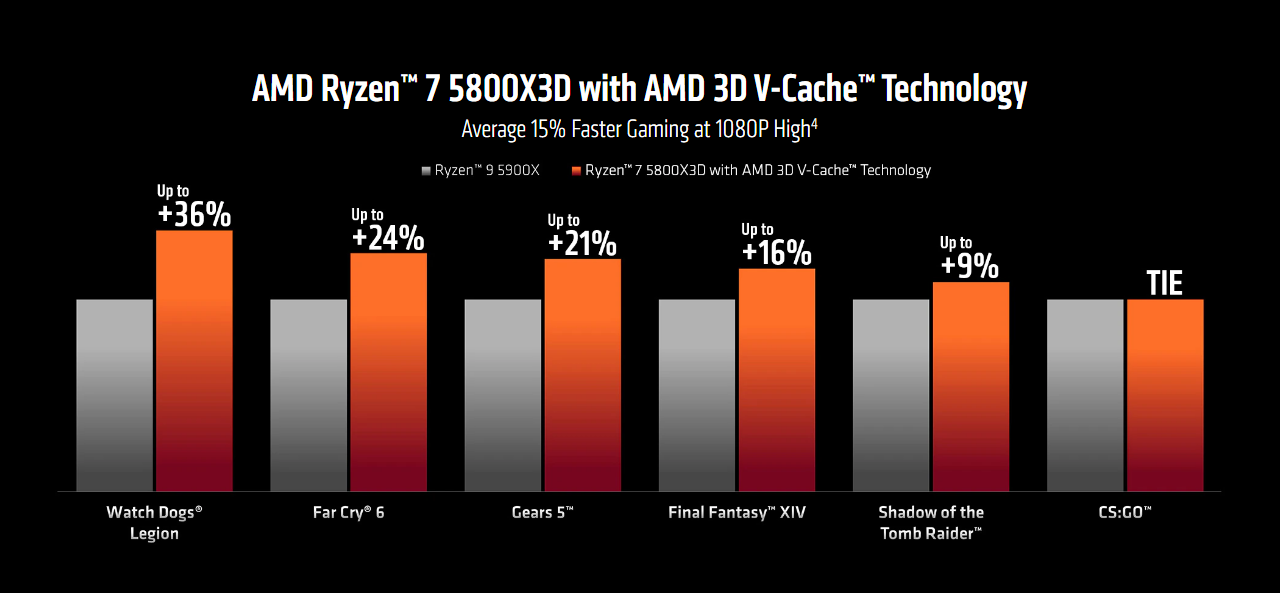 While AMD markets the Ryzen 7 5800X3D as a gaming CPU, they don't touch upon productivity. Where the 5800X3D suffers is its clock speeds. A reduction in clock speeds and the inability to overclock limits its ability to perform frequency-based applications like productivity rendering. This is due to the strict tuning of the stacked L3 cache of 1.35 volts with the risk of damaging cache components if overclocked. The table above compares the 5800X3D and Ryzen 9 5900X which utilize the same TDP of 105w, but the performance gains of the 5800X3D shift more towards cache-based applications like high detail triple-A titles.
The Ryzen 7 5800X3D does extremely well with games, increasing average frames on almost all of them compared to its non-3D cache brother. However, the 5800X3D's productivity benchmarking like animation, video, and compression rendering scores are below its higher clock speed counterparts (especially when overclocked). The 5800X3D isn't a CPU incapable of such workloads; users should verify their intentions before looking into this new CPU. This is a fantastic card with generational advantages for gaming, breaking FPS barriers previously encountered by lower cached CPUs.
The AMD 5800X3D releases on April 20th to consumers. Speculators remark that this is AMD's last Zen 3 CPU to release before the adoption of Zen 4 with a new AM5 socket. The 3D V-Cache technology is bound to be integrated into the next generation of AMD CPUs, hoping to see massive gains in gaming and CPU cache-reliant applications.
While this CPU might not be the first choice when building a new unit, it could be a very healthy CPU upgrade for those on the AM4 platform looking to squeeze more performance from their gaming setup.
Let us know if you have any questions in the comments section below, or contact us here.