What are the Best Accessories & Components for a System Built for AI
You don't have to look far or wide to find guides on building the best gaming rigs. Finding the best accessories for AI computers, though? That is a tougher search, although there can be some overlap.

There aren't many companies talking about the ins and outs of DIY AI computer build essentials. It is exactly for that reason that we have compiled a list of the most important components you will need for an artificial intelligence (AI) build and what we recommend.
What else should you consider for an AI computer?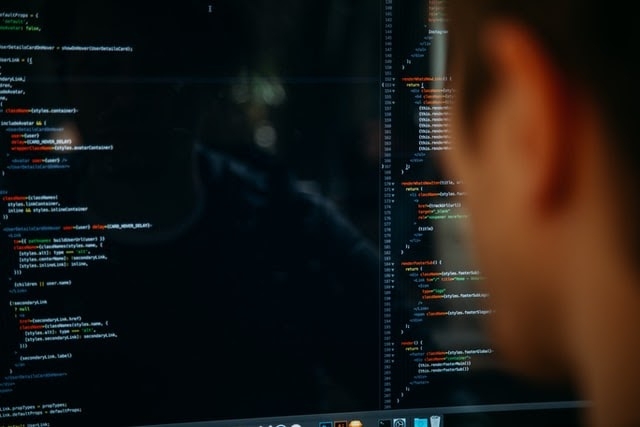 Getting the right monitor for programming, Image Source

At SabrePC we have written about AI hardware requirements at length. In that regard, we have primarily focused on GPUs and CPUs as being the central focus of building an AI computer (you can also check out our article on Best CPUs for Machine Learning here). There are plenty of other factors to consider though that will make your system perform better during any workload that deals with machine learning, deep learning, computer vision, NLP or any other AI-related project.
The most common accessories and components people think of with artificial intelligence builds are GPUs, CPUs, and cooling systems. Rather than take another stab at the obvious, especially when we have amazing suggestions here, we are going to take a look at the DIY AI computer build essentials that often get overlooked.

Specifically, we are going to take a look at storage drives (hard drives and solid state drives) for AI computers, power supplies, and monitors. These often overlooked machine learning computer components are vital to your AI build. If you are trying to create your own AI rig, then these really are some of the most important DIY AI computer build essentials that you shouldn't ignore.
Hard Drives (HDDs) and Solid State Drives (SSDs) for AI Computers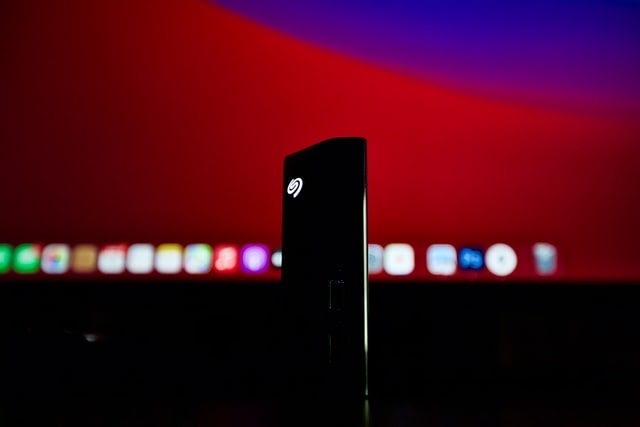 Seagate hard drives for AI computers, Image Source
Normally, when you are building any kind of DIY PC build, then you are going to want to consider the benefits of an HDD vs an SSD for your hard drive. However, when it comes to machine learning computer components, there is an entirely different consideration. You don't need to focus as much on the rate of transfers of data as much as you need to be concerned with the sheer amount of storage available.

Some AI builds will require massive amounts of data storage while others may not need as much. So, the most important factor in deciding on a hard drive for AI computers is exactly how much storage you think you will need. When in doubt, choosing far more storage than you think you will need can be a great decision so you hopefully will never need to worry about it, especially if you find yourself running out of storage space during a training run.
There are plenty of high-capacity SSDs and HDDs out there to choose from, but making a good hard drive choice is, without any doubt, a major factor in our DIY AI computer build essentials list. Your AI computer will only be as strong as the amount of information it can work with and data it can store and use appropriately.
Power Supply for an AI System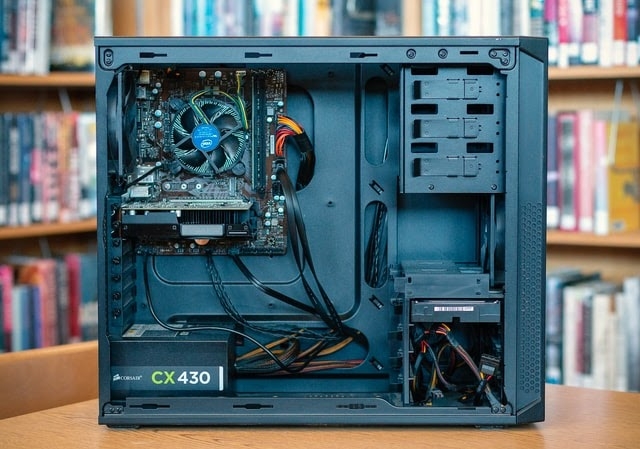 Power supplies for an AI computer in an open case, Image Source
Another area that is easily overlooked is power supplies (PSU). In fact, power supplies are typically one of the last parts picked for any kind of build. They are an afterthought. For our DIY AI computer build essentials list, they are in the number two slot because funneling power to your build is hugely important.

For many home PCs and even gaming rigs high-quality power supplies are not of too much importance. As long as the unit maintains power and doesn't overheat, then it is fine.
If you are looking for the best accessories for AI computers, though, then you need to consider two things when it comes to choosing a power supply:
How many processors are you using
Required number of PCIe pins
Whether you have decided to use CPUs or GPUs for your AI computer will largely help you decide on this first factor. If you are using a deep learning or machine learning rig with multiple GPUs, then you are going to need a whole lot more power. If you are going the CPU route or are only using a single CPU/GPU, then you won't have as much to worry about.
It's really important to focus on wattage. To figure out how much your PSU needs you can use a PSU calculator or figure out the power draw of all the different internal components in your rig and then adding that together to give you an idea of the minimum wattage you need to support. As a general rule, it's better to err on the side of higher wattage rather than trying to match your needs exactly, so if your components add up to about 500 watts then a 650W or 750W PSU would be ideal.
The second factor is important because you need to make sure that your PSU (power supply unit) fits with the rest of your equipment. They are most commonly either 6-pins or 8-pins, so make sure you plan accordingly. In fact, we would recommend planning around your power supply because it is going to be a much more important factor that can sometimes be less flexible than other part options.
Monitor Requirements for AI Computers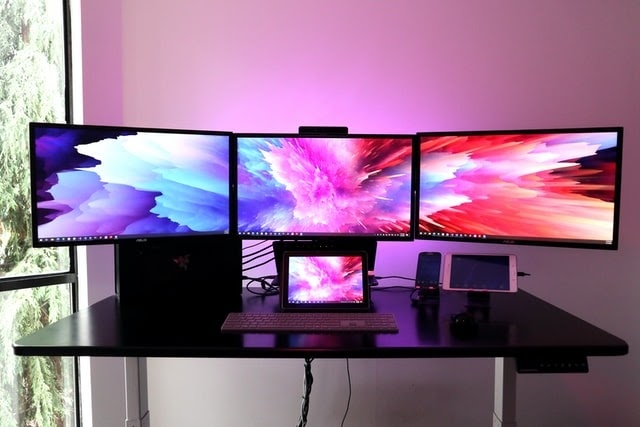 Multiple monitors for AI computers, Image Source
Rounding out our list of DIY AI computer build essentials that you also probably don't think about but are always right in front of you: monitors. Here's the thing, you are going to need a monitor, it's literally how you will display and interact with your computer. There are hundreds of options, so let's talk about some things to consider instead:

One monitor or more?
What kind of information is going to be displayed?
How long are you going to be looking at the monitor?
While there are many, many other questions to consider in a monitor, we are going to focus on these three as they pertain specifically to machine learning.
If you are thinking of using dual monitors for AI computers (which is a great way to consume the data you are working with!), then you are going to be looking at a completely different set of monitors. You are going to want to buy two of the same monitors or a pair of monitors that will complement each other for various reasons.
In the world of AI, if you have a lot of data to input, organize, lots of manual programming to do, etc., then you are going to want multiple screens to look at. Dual monitors are a great consideration depending on your answer to our second consideration.
What kind of information are you going to be displaying? Are you looking at machine learning computer components for visual data, or for a neural network, or for something else entirely? Answering these questions will determine how much visual fidelity you will need in a monitor.
Monitors for AI computers should be geared towards their intended purpose, so look at a 4K monitor for highly visual AI programs and look at ultra wide monitors for displaying large amounts of data.
Our last consideration on monitors is to take into account how much time you will be spending looking at the screen. The simple solution here: go with something closer to 4K so it is easier to look at and consider a monitor with a flicker-free backlight to prevent eye strain even further.
If you plan on using this rig to input data, run it, and not look at it all too often, then you could consider something cheaper and less amicable to your eyes.
And, now on to our recommendations...
Our Pick for Hard Drives for AI Computers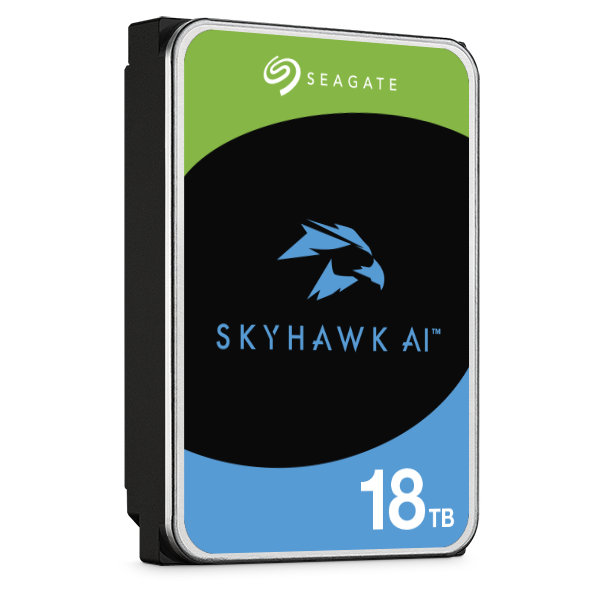 Seagate 18TB SkyHawk, best hard drives for AI computers, Image Source
The Seagate 18TB SkyHawk hard drive is specifically designed for large capacity storage requirements of AI systems. It doesn't need much more of an endorsement than that. With a whopping 18TB of storage, you will never have to worry about storage for any of your AI needs, unless you are processing enough data for the next SpaceX launch.
Highlights:
ImagePerfect™ AI firmware delivers zero dropped frames while supporting heavier workloads.
Versatile capabilities intelligently adapt to the scale of your AI environment, supporting up to 64 HD video streams and 32 AI streams.
Rest easy with three years of Rescue Data Recovery Services, offering an industry-leading 90% success rate against unexpected data loss from power outages, natural disasters, user error, viruses and more.
SkyHawk Health Management actively helps protect your surveillance storage by focusing on prevention, intervention, and recovery options. Included RAID RapidRebuild™ provides 3× faster volume rebuilds.
Higher reliability with 2M hours MTBF and a 550 TB/year workload rate for more than 3× that of standard surveillance hard drives.
Powerful processing to welcome workload challenges - SkyHawk AI supports video analysis and recording simultaneously with GPU analytics workloads.
Enjoy consistent performance with built-in rotational vibration sensors providing reliable storage for NAS with little lag or downtime.
Multi-bay support helps you meet your growing storage demands with up to 16+ bays.
The key to a good hard drive is that it will last, as you don't want to have to constantly update or replace them. The Seagate 18TB SkyHawk has a 550TB/year workload, which is triple the standard rate. This is a perfect AI hard drive that will last for more than a couple years and millions of hours of machine learning programs and operations. And, because of this it's difficult to keep in stock (although you can always send an inquiry to us and we will see what sourcing options are available and let you know as soon as we have inventory).

You can also view high storage capacity SSDs here that include several from Western Digital.
You can view other 18TB hard drives here to see what's currently in stock.
Our Pick for Power Supplies for AI Computers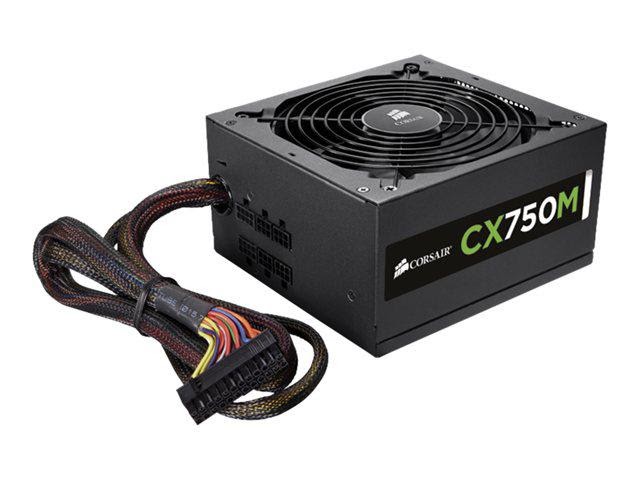 Corsair CX750M, AI computer power supplies, Image Source
For power supplies, there can be a lot of options depending on a lot of factors. However, we would go with the Corsair CX750M time and again. It has an above average power output without all the noise and heat.
There may be times where you need to increase your power output, but the entire Corsair brand has some of the highest quality power supplies on the market. If you need more than 750W, then we recommend checking out our selection of Corsair power supplies to find the fit you need.

The Corsair CX750M is a modular power supply giving you plenty of flexibility in your build, so you shouldn't have to worry about it fitting in your AI rig.
View all other power supplies available on SabrePC here.
Our Recommended Monitors for AI Computers: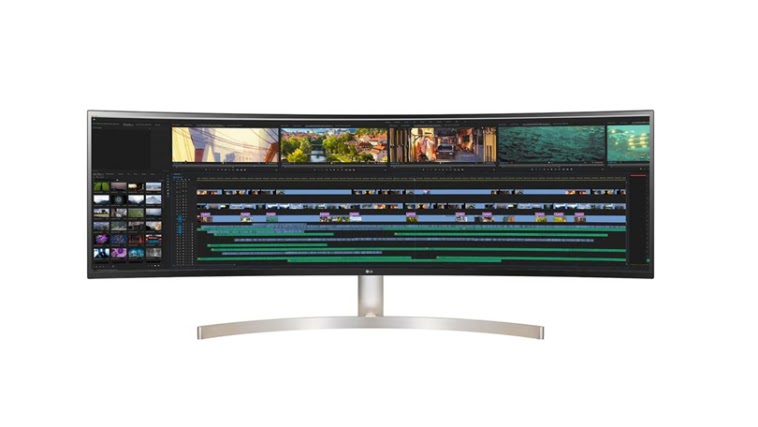 LG 49WL95C-W, monitors for AI computers, Image Source
As we mentioned before, there are a huge number of factors to consider when picking out a monitor. However, for monitors for AI computers, we recommend the LG 49WL95C-W.
At 49 inches wide with a curved monitor it gives you a huge field of view for any and all data tables, programs, visual outputs, etc. as well as crystal clear, near-4k resolution. With flicker-free backlighting and the ability to tilt and swivel as needed, this monitor will do everything you need and more.

Features:
UltraWide™ Dual QHD (5120x1440) Lets You Go Beyond Multitasking - The 49WL95C is an 32:9 UltraWide™ Dual QHD (5120x1440) monitor with a doubled 27-inch 16:9 QHD pixel space in one screen. With 70 more pixels compared to 32:9 FHD resolution (3840x1080), you can go beyond multitasking with a multi-format multiplex.
Manage the Whole Timeline - By checking the video storyboard, you can inspect source clips for your videos. Without switching windows, you can view thumbnails of the source files and upload the files to the timeline.
Do Work Simultaneously - You can check a five-minute timeline and carry out an arrangement task without scrolling. For music clips used in YouTube videos, tasks can be completed with 1:1 video editing and a mixing tool.
Expand Your Workspace - Stacking two 49WL95C monitors vertically, you can achieve the same screen space and clarity as four 27-inch QHD monitors with fewer cables and smaller bezels.
Dual Controller - Dual controller helps you control multi devices connected to one screen, with one keyboard or mouse. You can simply drag and drop files over the connected devices.
OnScreen Control With Versatile Display Settings - On Screen Control software allows you to control various display settings with a single mouse click. Screen Split will help you divide the whole display area with no hassle.
USB Type-C™ Brings Easy Control and Connectivity - More and more users are using high-end laptops as mobile workstations. Supporting USB Type-C, the 49WL95C can complete your portable workstation with just one cable.
2x10W Stereo Speakers For Rich Bass Sound - 49WL95C boasts 2 x 10W built-in stereo speakers. It can cover a small editing room or private room without using external speakers, with Rich Bass supported.
HDR 10 To Enjoy HDR content on Your Desk - HDR technology is now applied to various content. 49WL95C supports HDR 10 that enables viewers to enjoy the dramatic colors of the content.
Ambient Light Sensor For Automatic Brightness Control - The sensor reacts to light, making the screen brighter in bright areas and darker in the dark for you to work in the optimal display environment.
Ergonomic Design - Height, tilt, and swivel adjustment stand helps you to customize the desk setup to create a more personal, comfortable workstation.
Looking for more info on what goes into an AI computer build?
When you are researching machine learning computer components it can be incredibly frustrating to not find all the information you need. We think this list hits the often overlooked highlights of DIY AI computer build essentials.
If you find some of our recommendation are out of stock, simply send us an inquiry from the product page and we can either help find what you're looking for or recommend an alternative based on your requirements.
If you have any questions about building your own AI rig, then we would love to be able to help! Feel free to contact us and we will help you get started.
In the meantime, you can find other articles and comparisons elsewhere on the SabrePC blog. Keep a lookout for more helpful articles that will be on the way soon.