NVIDIA Releases It's Most Powerful Consumer GPU
The new NVIDIA GeForce RTX 3090 Ti is ready for launch, but at a premium price over its predecessor, the RTX 3090. This new GPU addition wasn't designed just for gaming, since it can also be used for content creators and data scientists, with plenty of power for audio and video editing, rendering, visualization, creating production-quality video, or editing in multiple apps at the same time.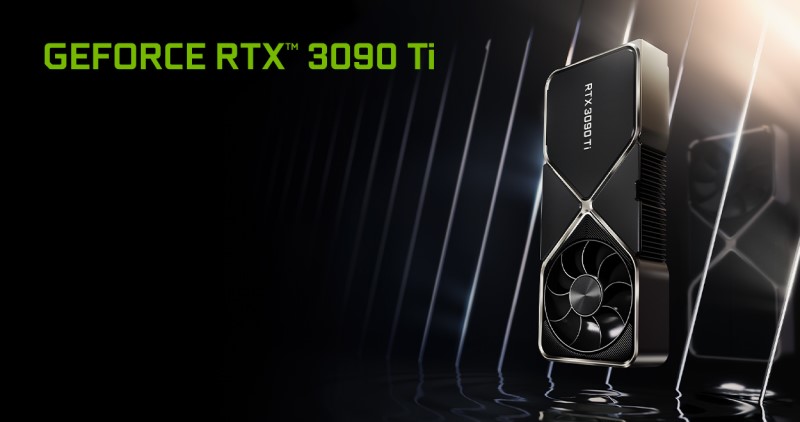 Most of the improvements involve a slight bump in CUDA Cores and memory speeds. The RTX 3090 Ti boasts a modest increase in CUDA Cores: 10,752 vs 10,496 in the RTX 3090. As for memory, the RTX 3090 Ti still features 24GB of GDDR6X video memory, but it's now clocking in at a speedy 21Gbps which is an increase from the RTX 3090's 19.5Gbps. The extra memory boost means the product can deliver 1TB/s in memory bandwidth, which NVIDIA says makes the RTX 3090 Ti ideal for processing massive 3D simulations and datasets. To put it into perspective, the RTX 3090 Ti can handle datasets that are twice as large as those that fit into the memory footprint of the RTX 3080 Ti.
As far as the gaming performance is concerned, the new RTX 3090 Ti is about 9% faster than the RTX 3090, and on average up to 64% faster than the RTX 2080 Ti. It can also be used to play, capture, and watch games in 8K HDR with DLSS.
NVIDIA GeForce RTX 3090 Ti Specs
Now let's see the breakdown in differences between the RTX 3090 Ti and the RTX 3090.
NVIDIA GeForce RTX 3090 Family
GEFORCE RTX 3090 Ti
GEFORCE RTX 3090
GPU Engine Specs:
NVIDIA CUDA® Cores
10752
10496
Boost Clock (GHz)
1.86
1.70
Base Clock (GHz)
1.67
1.40
Memory Specs:
Standard Memory Config
24 GB GDDR6X
24 GB GDDR6X
Memory Interface Width
384-bit
384-bit
Technology Support:
Ray Tracing Cores
2nd Generation
2nd Generation
Tensor Cores
3rd Generation
3rd Generation
NVIDIA Architecture
Ampere
Ampere
Microsoft DirectX® 12 Ultimate
Yes
Yes
NVIDIA DLSS
Yes
Yes
NVIDIA Reflex
Yes
Yes
NVIDIA Broadcast
Yes
Yes
PCI Express Gen 4
Yes
Yes
Resizable BAR
Yes
Yes
NVIDIA® GeForce Experience™
Yes
Yes
NVIDIA Ansel
Yes
Yes
NVIDIA FreeStyle
Yes
Yes
NVIDIA ShadowPlay
Yes
Yes
NVIDIA Highlights
Yes
Yes
NVIDIA G-SYNC®
Yes
Yes
Game Ready Drivers
Yes
Yes
NVIDIA Studio Drivers
Yes
Yes
NVIDIA Omniverse
Yes
Yes
NVIDIA GPU Boost™
Yes
Yes
NVIDIA NVLink™ (SLI-Ready)
Yes
Yes
Vulkan RT API, OpenGL 4.6
Yes
Yes
NVIDIA Encoder
7th Generation
7th Generation
NVIDIA Decoder
5th Generation
5th Generation
CUDA Capability
8.6
8.6
VR Ready
Yes
Yes
Display Support:
Maximum Digital Resolution (1)
7680x4320
7680x4320
Standard Display Connectors
HDMI(2), 3x DisplayPort(3)
HDMI(2), 3x DisplayPort(3)
Multi Monitor
4
4
HDCP
2.3
2.3
Founders Edition Card Dimensions:
Length
12.3" (313 mm)
12.3" (313 mm)
Width
5.4" (138 mm)
5.4" (138 mm)
Slot
3-Slot
3-Slot
Founders Edition Thermal Power Specs:
Maximum GPU Temperature (in C)
92
93
Graphics Card Power (W)
450
350
Required System Power (W) (4)
850
750
Supplementary Power Connectors
3x PCIe 8-pin cables (adapter in box) OR
450W or greater PCIe Gen 5 cable
2x PCIe 8-pin
(adapter to 1x 12-pin included)
1 - Up to 4k 12-bit HDR at 240Hz with DP1.4a+DSC. Up to 8k 12-bit HDR at 60Hz with DP 1.4a+DSC or HDMI2.1+DSC. With dual DP1.4a+DSC, up to 8K HDR at 120Hz
2 - Supports 4K 120Hz HDR, 8K 60Hz HDR and Variable Refresh Rate as specified in HDMI 2.1
3 - DisplayPort 1.4a
4 - Requirement is made based on PC configured with an Intel Core i9-10900K processor. A lower power rating may work depending on system configuration.
Note: The above specifications represent this GPU as incorporated into NVIDIA's Founders Edition or reference graphics card design. Clock specifications apply while gaming with medium to full GPU utilization. Graphics card specifications may vary by add-in-card manufacturer. Please refer to the add-in-card manufacturers' website for actual shipping specifications.
Who It's For
NVIDIA says the GeForce RTX 3090 Ti is for their most ambitious users: those building research systems for data science and AI, or processing large datasets, and those making massive projects in creative applications. It also targets any developer or CG animator working with detailed models, super high resolution textures and massive sets.
If you simply want to game, extreme enthusiasts can enjoy max setting 4K, ray-traced gameplay at the fastest speeds possible, and even 8K NVIDIA DLSS-accelerated gaming on displays that support 8K 60Hz as specified in HDMI 2.1.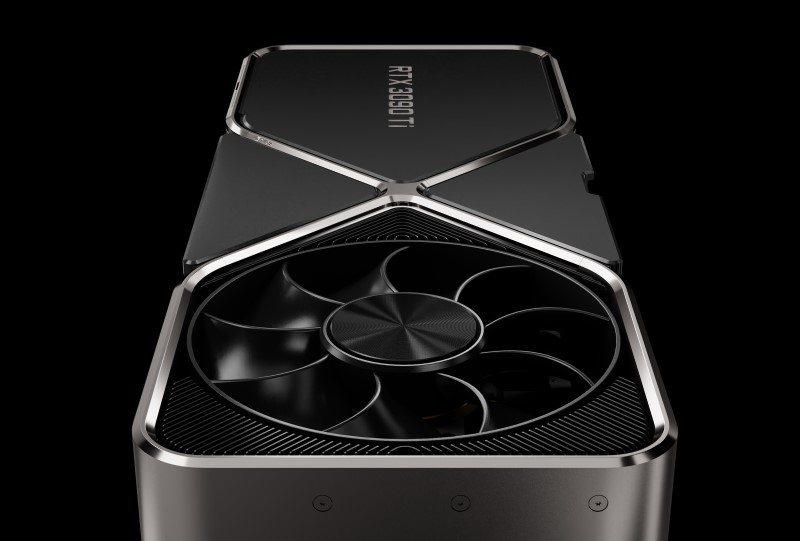 If you are looking for NVIDIA GPUs, you can view our latest selection of the RTX 3090 family series here.

Let us know if you have any questions in the comments section below, or contact us here.