A Quick Look at the New AMD Radeon PRO W6400

With its announcement this morning, AMD expands its W6000 Series of graphics cards with the new Radeon PRO W6400. With its focus on professional workers on a budget rather than pushing performance benchmarks (this is definitely not meant to be a gaming GPU), the new W6400 targets creators, enterprise workers and business professionals, leaving the heavier workloads for the more powerful W6000 Series GPUs released last year.
The AMD Radeon™ PRO W6400 packs a load of standard features including 4GB of high-performance memory, hardware raytracing, optimizations for 2 Ultra-HD HDR displays, accelerated software multi-tasking, PCIe® 4.0 for advanced data transfer speeds, and certifications for many popular applications.
Here are some highlights:
AMD removed expensive connectors many PRO users don't ever use, and optimized the W6400 for two modern HDR, Ultra-HD and Ultrawide displays. With full size DisplayPort™ outputs to allow for effortless display connection in a carefully condensed form, AMD made sure this GPU is easy to connect a display to.
Radeon PRO Viewport Boost dynamically smooths 4K viewports to remove stuttering frames in a growing number of supported applications.
4GB of super-fast memory and modern, high-performing GDDR6 memory makes it easier to work with bigger files than comparable light-workload GPUs. With the ability to load large content into memory, and open multiple applications, AMD Radeon PRO W6400 is built for today's modern professional worker.
Upgrading your system is much easier since the W6400 is designed to be powered from the system's standard PCIe® slot, along the base of the card. This means it can go into any compatible workstation system and start working its graphics magic almost immediately.
With its AMD RDNA 2 graphics architecture, the performance can manage large, complex workloads so you don't miss a deadline.
AMD Radeon PRO W6400 Specs
Model
Stream
Processors
TFLOPS
GDDR6
AMD
Infinity
Cache
(L3)
Memory
Bandwidth
Memory
Interface
Display Outputs
AMD Radeon PRO W6400
768
(12 CUs)
Up to 3.54 (FP32)
Up to 7.07 (FP16)
4GB @ 16Gbps
16MB
128 GB/s
64-bit
2x DisplayPort™1.4 with DSC and audio support


Performance Benchmarks
Rendering & Visualization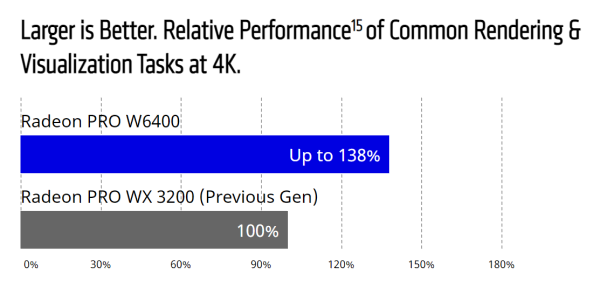 Image Editing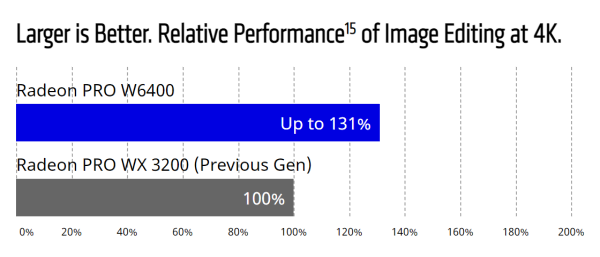 Autodesk® AutoCAD®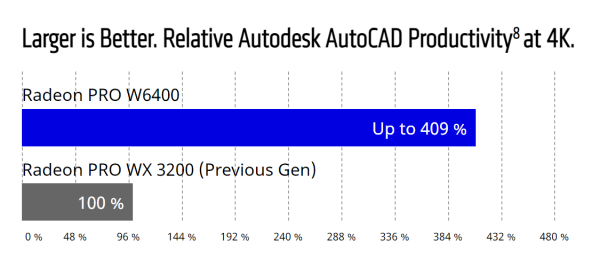 Video Conferencing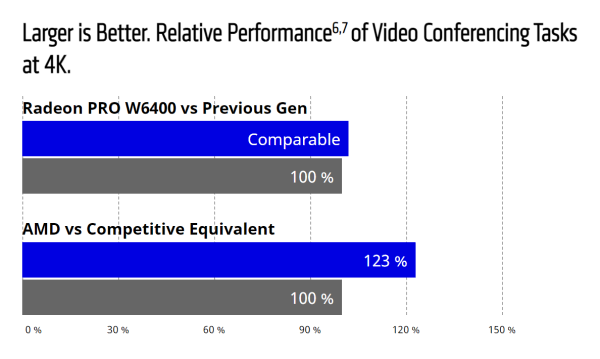 McNeel Rhinoceros®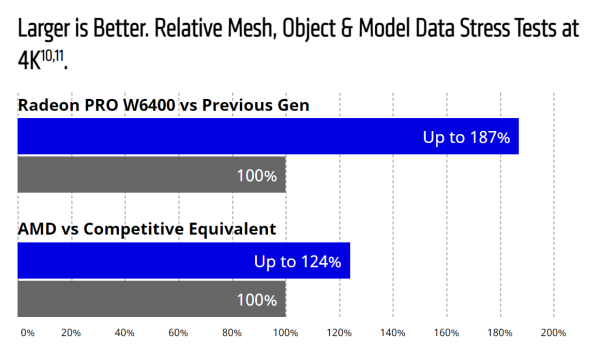 Adobe® Creative Cloud®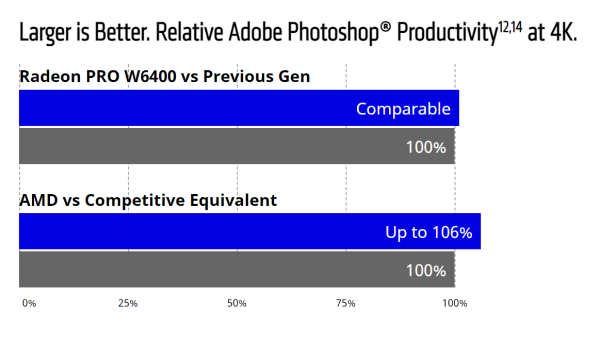 Final Thoughts
AMD's new Radeon PRO W6400 graphics card is meant for professionals who don't need the extra bloat of a high-end GPU. It's a solid choice for PRO users who require a powerful office system, or who regularly work with image editing, visualization and rendering, modeling, video editing and CAD work.
It's also a great affordable option if you have a tighter budget, but don't want to compromise on desktop performance.
Here's a final rundown of AMD Radeon™ PRO W6400 features:

Based on the AMD RDNA™ 2 Architecture
4 GB GDDR6, 64-bit memory interface
7.07 TFLOPs Peak Half Precision (FP16) Performance
3.5 TFLOPs Peak Single Precision Matrix (FP32) Performance
Up to 128 GB/s Peak Memory Bandwidth
16 MB AMD Infinity Cache™
2x Full-size DP 1.4 with DSC and Audio Support
PCIe 4.0 x4 (3.0 Backward Compatible)
No External Power Connectors Needed
Supported Rendering Formats: 4K H264 Decode, H265/HEVC Decode
Availability Q2 2022
W6400 Dimensions
Board Height: Half Height
Board Length: 6.6" (168mm)
Board Width: Single Slot
If you are looking for AMD's highest performance graphic cards, we have both the W6600 and W6800 in stock and ready to ship.

Let us know if you have any questions in the comments section below, or contact us here.