NVIDIA GTC 2022 Fall announced leaps and bounds in the both consumer and enterprise space with a very strong emphasis on their AI technology applicable in numerous industries with new hardware to support it.
What Graphics Cards Were Announced at GTC?
Jensen Huang announced the long-awaited GeForce RTX 4090 and the RTX 4080. These GPUs are paving the way for mainstreaming the art of ray tracing and delivering peak performance at peak graphics for higher immersion and satisfying gameplay. They both house the Ada Lovelace GPU die at the heart; more on that later. First, let's look at the specs:
GeForce RTX 4090
GeForce RTX 4090 performs 2x Faster in rasterized games and 4x faster for ray traced games. It has the same 24GB of GDDR6X but a massive 16,384 Cores, more than 60% more than the previous big boy champion, the RTX 3090Ti. The RTX 4090 has a boost clock of 2.52GHz but Jensen was not shy to mention that they were able to clock this beast to over 3GHz. We caution digesting these claims until external reviews confirm them.
The rumored high TDP of the 4090 isn't true either! NVIDIA was able to reign in the 4090s TDP to the same 450W. However, the extra performance and inclusion of this generation of GPUs deliver extreme ray tracing performance that we have never seen before.
The RTX 4090 will be available on October 12th with a base price of $1599.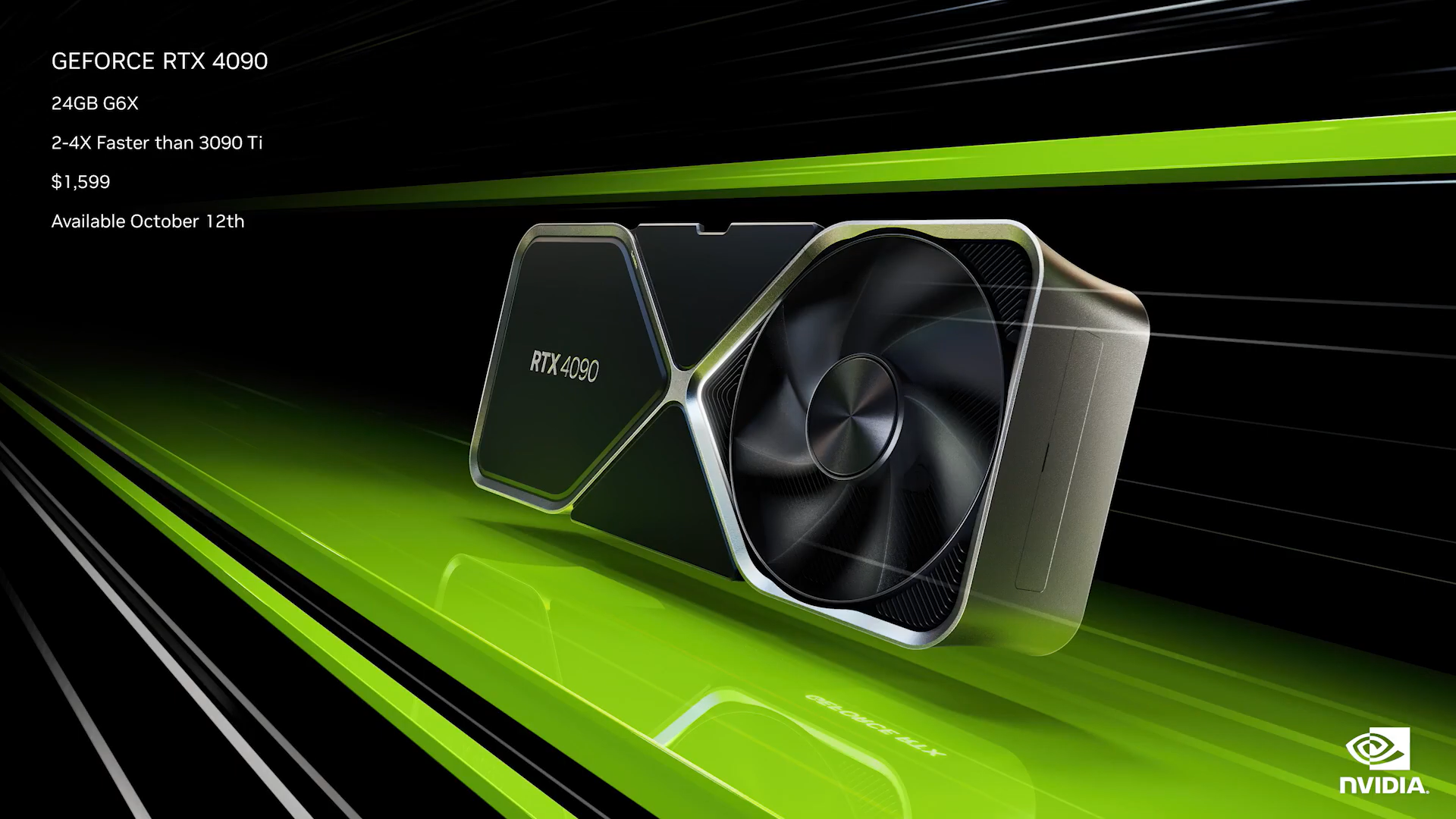 GeForce RTX 4080
GeForce RTX 4080 performs 2x Faster in rasterized games and 3x faster for ray traced games than the 3080Ti and 3080. It comes in 2 variants: the 16GB model and the 12GB model. What is odd is the decrease in cores between these generations. the RTX 4080 16GB variant has 9,728 cores as opposed to the 3080Ti having 10,240. The RTX 4080 12GB has only 7,680 cores whereas the RTX 3080 12GB has 8,960. However, that doesn't mean they are any slower.
The clock speeds of both variants definitely make up for those cores. Higher clocks per core help the 4080 reach a lot higher performance with an average boost clock between the two variants being 2.51/2.61GHz respectively. That is a big jump from 1.67/1.71 GHz from the 3080Ti and 3080.
The RTX 4080 is set to release in November later this year. 16GB variant costing $1,199 and the 12GB variant starting at $899.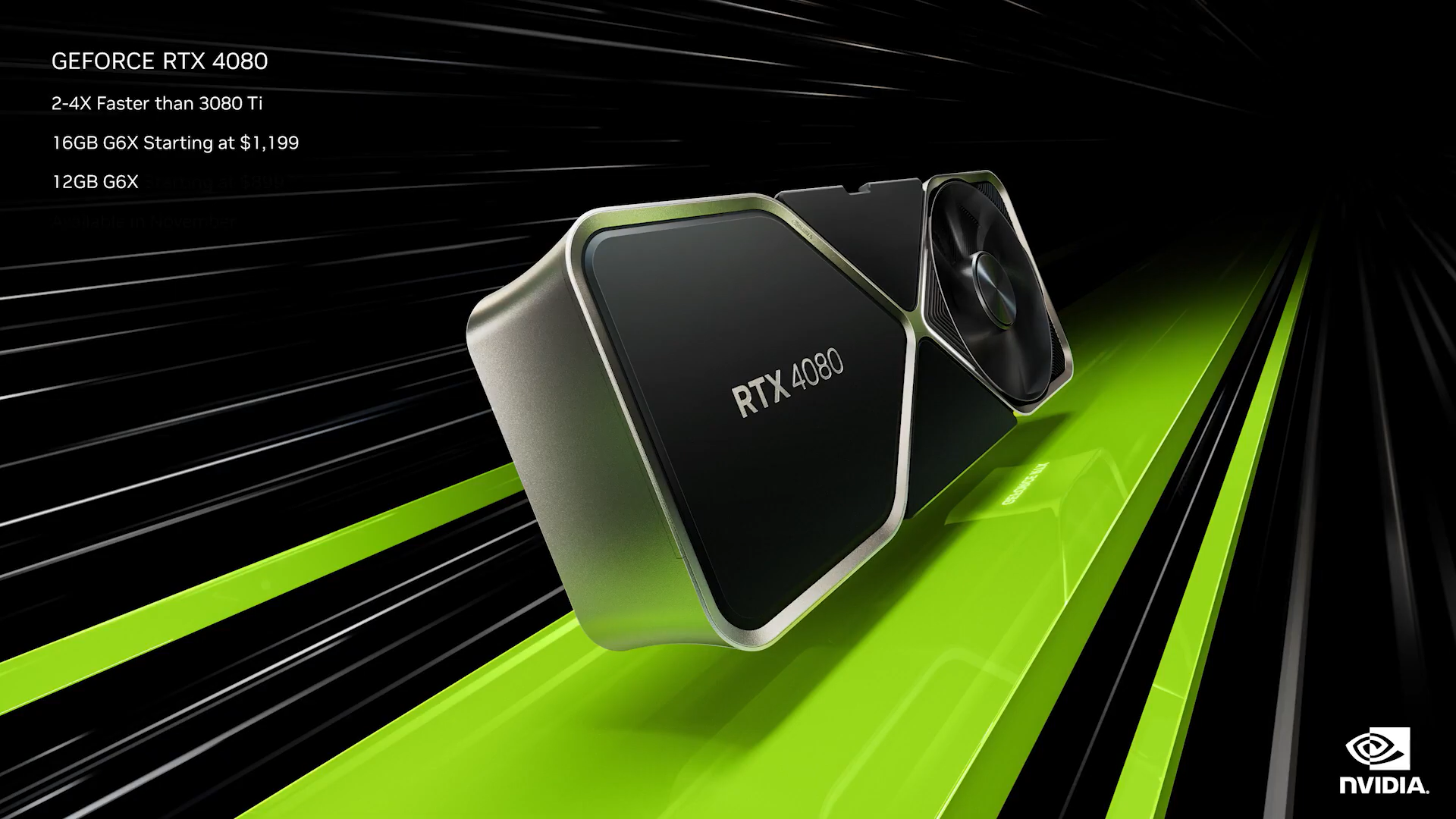 Many suspect the 4080 12GB model to originally be a replacement for the 3070, and this makes sense regarding core count. As you may know currently, NVIDIA has a huge amount of Ampere Cards to sell: 3070Ti, 3070, 3060Ti, and 3060, still on the market and looking to sell them as quiIncreasingble. Increasing the memory to a 12GB model and branding it as a lower tier 4080, might drive sales towards the existing more mainstream Ampere cards 3070 and below.
RTX 6000 Ada Lovelace Generation
Despite not being announced during GTC, there is a new professional visualization graphics card announced via press release. The NVIDIA RTX 6000 Ada Generation, is the successor to the Ampere-based NVIDIA RTX A6000. 18,176 CUDA cores, 568 Tensor Cores, 142 RT cores, and 48GBs of GDDR6 ECC memory power the RTX 6000 Ada, a welcomed addition to NVIDIA's powerful lineup of graphics processing monsters.
This card wasn't built with gaming in mind, but instead for building games (and other forms of media) through accelerating 3D design and simulation tools. Rendering is a huge bottleneck when producing and developing the next generation of graphics so a card like the RTX 6000 Ada, with more CUDA cores, Tensor Cores, and RT Cores than the 4090 speaks volumes about what this card is capable of. And if it is so powerful, I'm sure you can play a game or two when you're not working.
Not only is this card for graphical rendering and simulations but is also used in applications with extremely large data sets such as medical imaging, scientific research, and training AI. The large memory pool of 48GB ensures there is less memory throttling than any consumer graphics card. This card comes equipped with options for NVLink, coupling 2 RTX 6000s for a mind-boggling total of 96GBs of VRAM.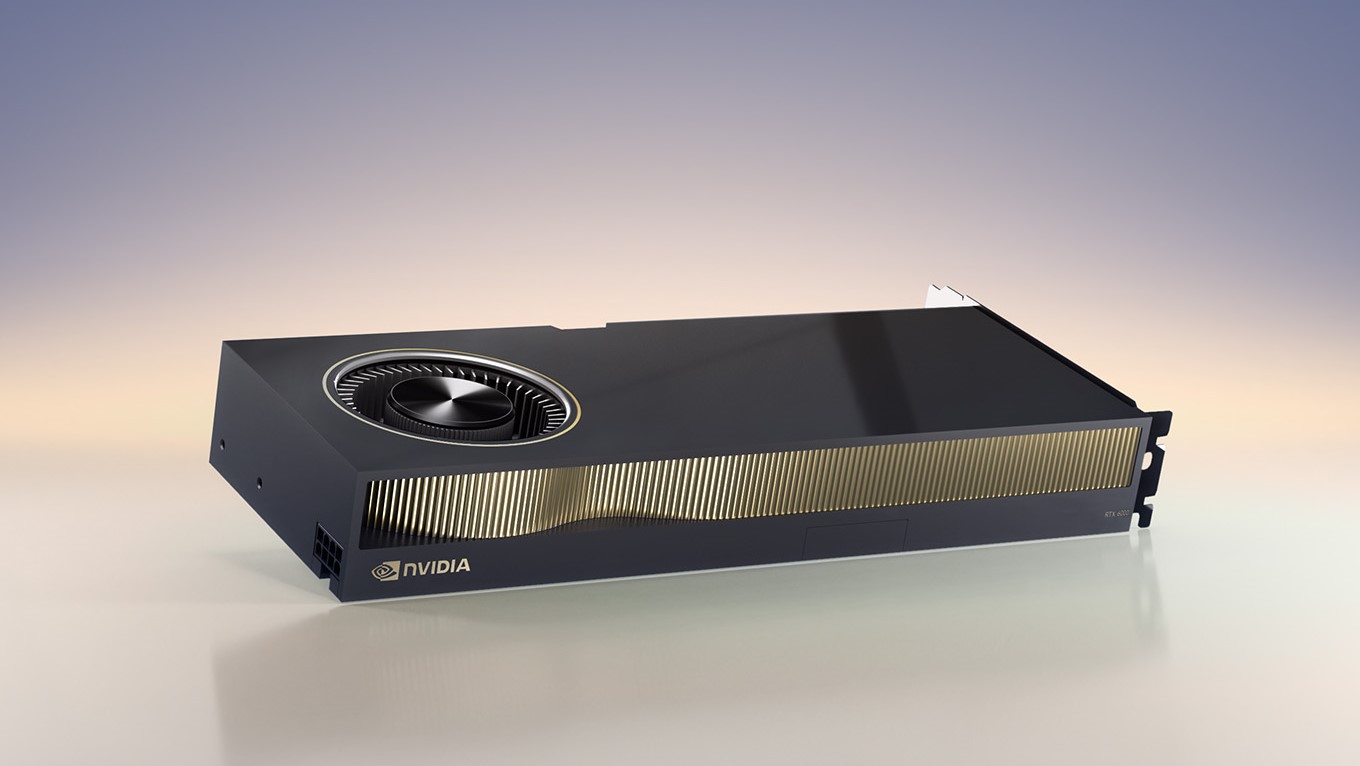 Advancements in the Ada Lovelace Architecture
A huge deal on why your next card might be a GPU built on Ada Lovelace is its ability to modernize and bring Ray-Tracing to the mainstream. Next-generation RT Cores and Tensor Cores enable higher efficiency in raytracing workloads and deep learning inferencing workloads. These two coupled deliver some crazy AI accelerated ray tracing performance that makes the Ada Lovelace GPUs a worthy upgrade.
Better Shade Execution
They have implemented New Sharders Execution Reordering or SER to orchestrate rendering and ray tracing jobs on the fly. Ray tracing workloads are serial in that 1 ray tracing job must be finished before the next is calculated. By grouping similar workloads and executing them in parallel, ray-traced jobs can speed up dramatically. Their new generation Ray Tracing Cores deliver 2x the throughput with the new Opacity Micro Mapping and Micro Mesh Engine. With the new Tensor Core and the addition of the NVIDIA Hopper Transformer Engine and FP8 tensor processing, the Ada Lovelace generation exceeds Ampere by at least double.
DLSS 3
DLSS 3 enables higher framerates for games that support RTX. Instead of pixel-correcting elements on a frame to generate higher resolutions, DLSS 3 will generate high-resolution frames through AI using information given through sequential frames. Effectively, really good guessing. DLSS samples multiple lower resolution images and uses motion data and feedback from prior frames to reconstruct native quality images.
This will increase the smoothness of games while delivering them without intervention from the CPU due to the advancement in the inferencing calculation speeds from the new tensor cores. That means that the CPU can work harder on rendering distant assets or controlling game logic instead of smoothing graphics.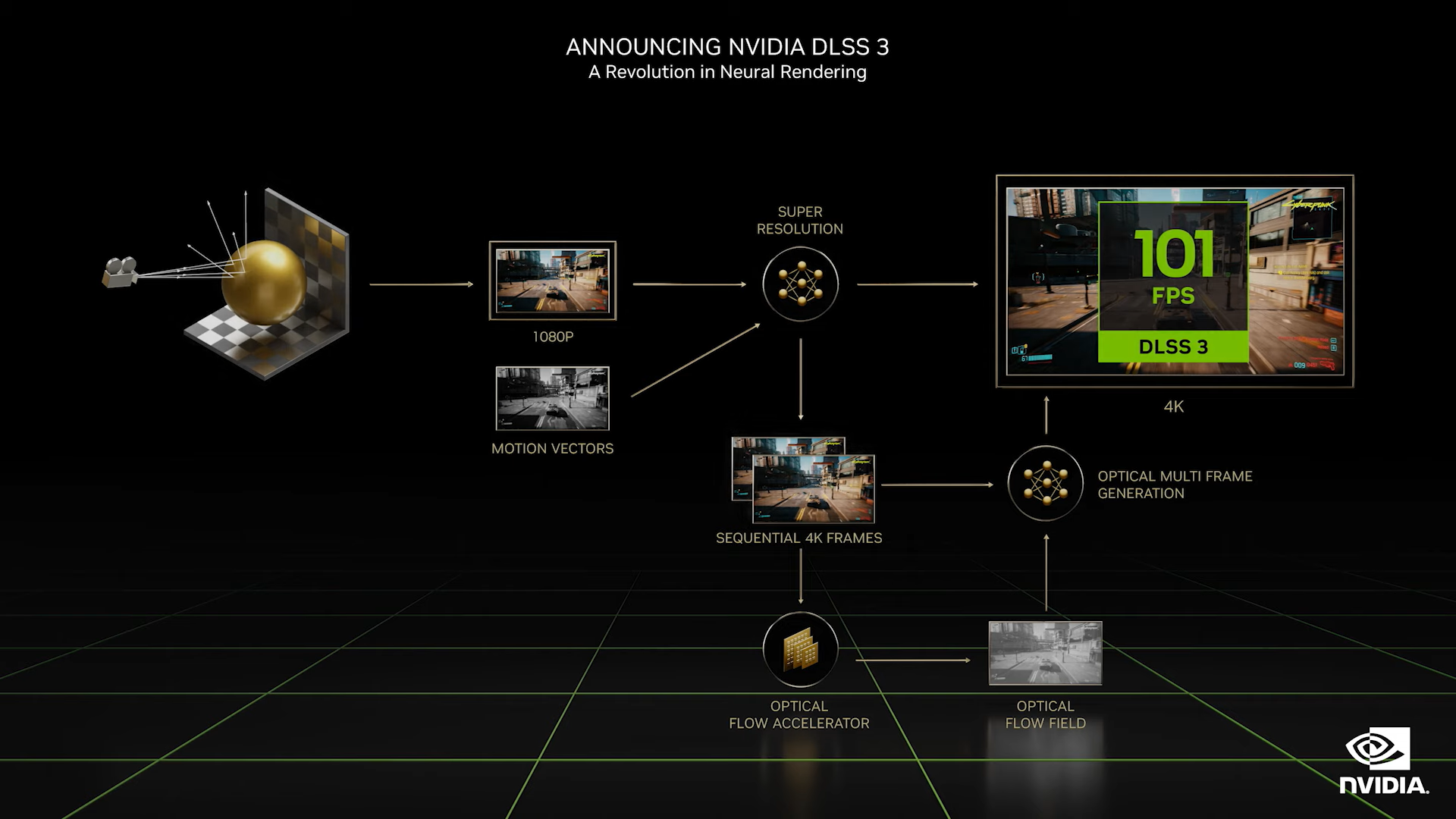 Other Notable News: NVIDIA RTX Remix and Omniverse
RTX Remix
Though this isn't directly a result of the Ada Generation of GPUs, it's worth mentioning when talking about bringing RTX and raytracing to the mainstream. RTX Remix is a developer tool built on NVIDIA Omniverse's creation tools to enable the modification of our most beloved games. Games like Minecraft in RTX and Doom Eternal make the game so much more immersive. Other games that don't have a feasible means of graphics modification (such as DirectX 8 and DirectX 9 games) make it extremely difficult for studios to put in the time and effort to deliver ray tracing to our favorite titles.
Through RTX Remix, NVIDIA's Lightspeed Studios worked to develop Portal RTX to revitalize the flat sterile graphics (that were once groundbreaking) into its once again extremely immersive and dynamic puzzle game. This means that the old games that we once knew and loved can be enjoyed again in modern graphics.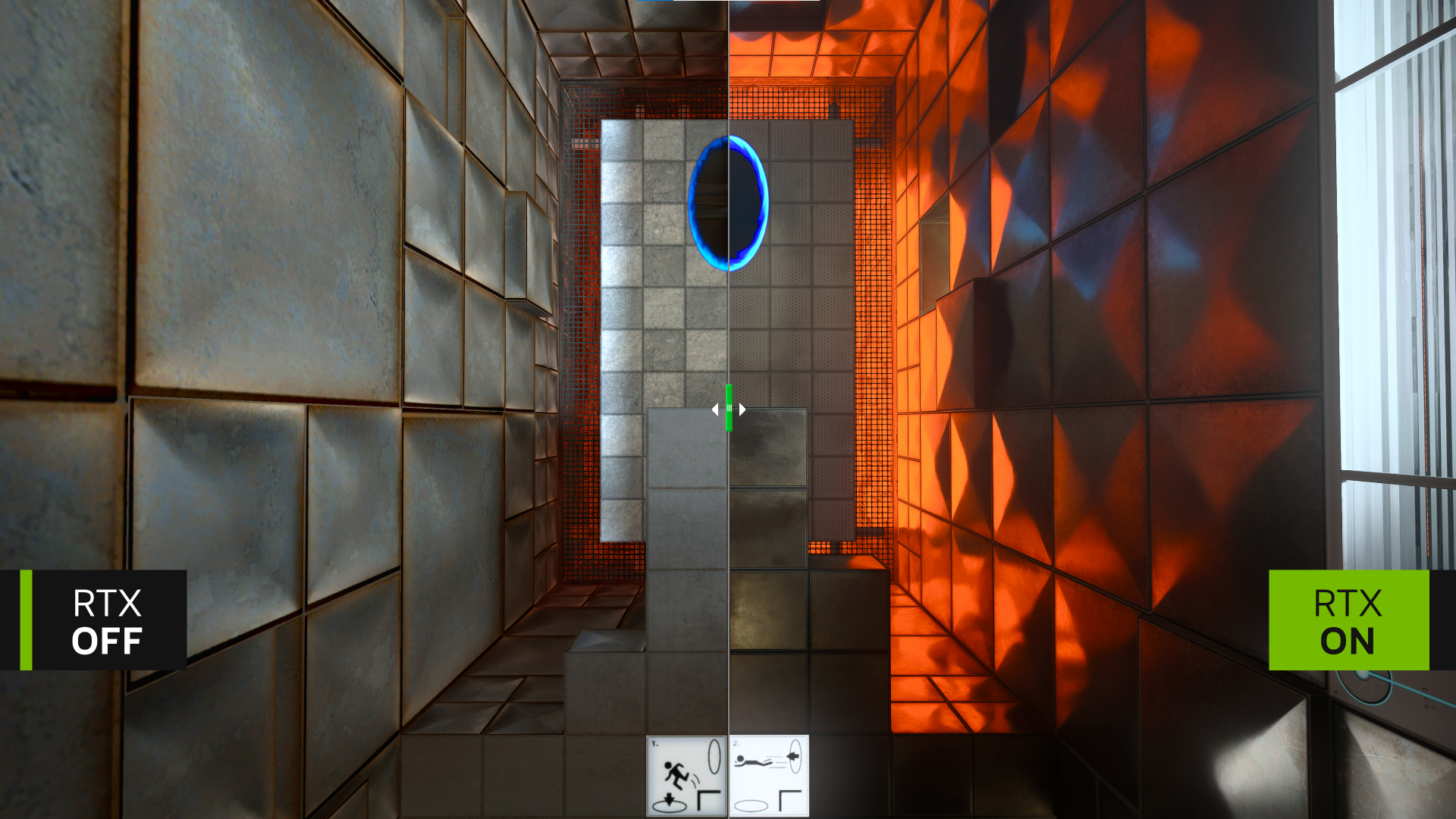 Omniverse
RTX Remix uses NVIDIA Omniverse and its universal USD (Universal Scene Description) file format to convert scanned assets which can then be updated to build new pots, pans, carpets, and structures with new textures that can refract light dynamically. NVIDIA Omniverse supports industry-standard apps such as Adobe Substance, 3D Painter, Autodesk Maya, 3ds Max, Blender, SideFX Houdini, Unreal Engine, and more, all of which you creative developers are familiar with.
NVIDIA Omniverse is a 3D Design and Collaboration real-time enables real-time digital asset development and creation all bundled into a simple launcher. It includes the industry-standard industry of standard applications which are synced using the aforementioned USD file format where your team can develop on the same scene at the same time. This makes remastering games a breeze when getting input from your team.
Its purpose is further than just collaboration on a project but also can assist with the development of Digital representational of factories and manufacturing centers. Omniverse enables the metaverse to develop and connect 3D worlds, simulate 3D worlds, and develop 3D worlds together.
With an open platform to connect and extend, Omniverse is connected over the cloud for users around the world to realize its potential in collaboration.
Conclusion
NVIDIA GTC unveiled a lot more than just these few things. In fact, this recap only covered about a quarter of the many advancements at NVIDIA, focusing more on just Ada Lovelace. With new data center GPUs for DGX, OVX, and edge devices like Robotics and Autonomous Vehicles, NVIDIA is well on its way from transitioning into a supplier of high throughput solutions to accelerating the development of Artificial Intelligence.
Check out the rest of NVIDIA's GTC 2022 Keynote. There's a ton of info that would get anyone excited about the future of AI.
If you have any questions about the products mentioned in this week's recap blog, contact our sales team and we would be happy to help.