The new Intel Thunderbolt standard.
Intel® created the Thunderbolt™ 3 with the intention of providing faster computer interface accessibility to everyone. Due to the slow consumer USB-C interface adoption, Intel has released plans to develop future CPUs with Thunderbolt technology. It will also offer the same interface to third party chip-makers royalty-free. Intel's vision is to create an interface standard that does it all: the ability to transfer data, high definition photos and videos, while powering devices via daisy chaining.
Intel® seeks mass market adoption by implementing the Thunderbolt 3 interface into varied avenues of technology. As technology improves and devices pack more power in smaller and smaller form factors, the Thunderbolt™ 3 interface has the possibility to integrate multiple devices universally and seamlessly; you will be able to connect multiple 4K monitors, storage devices, and external GPU together through Thunderbolt™ 3.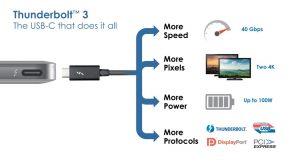 Implementing Intel's Thunderbolt™ 3 into future CPUs can help reduce overall cost. This will also ensure future devices and systems are efficient and portable. By releasing the Thunderbolt protocol specification under a non-exclusive royalty-free license, Intel's tech has the potential to become widely adopted. For example, we could even begin seeing AMD based PCs with Thunderbolt™ 3 capabilities. Although Intel® has offered the technology royalty-free, companies may decide not to adopt the Intel standard. Only time will tell if Intel's big Thunderbolt™ push will be successful.