"The NVIDIA GeForce RTX 2080 SUPER is powered by the award-winning NVIDIA Turing™architecture with more cores, higher clocks, and faster memory for ultimate performance and incredible new levels of realism", as stated from the NVIDIA website.
For practicality purposes, NVIDIA's GeForce RTX 20 Super series (RTX 2080 SUPER, RTX 2070 SUPER, RTX 2080 SUPER) have been the company's response to AMD's new video cards. The new Super cards have given NVIDIA's product lineup a performance boost at almost every level.
However, the 2080 Super is very similar to its predecessor. From tomshardware, "As a brief refresher on TU104 and its vital specs, TSMC manufactures the GPU on its 12nm FinFET node. A total of 13.6 billion transistors are crammed into a 545 mm² die, which is naturally smaller than Nvidia's massive TU102 processor but still quite a bit larger than last generation's 471 mm² flagship (GP102)."
NVIDIA RTX 2080 Super Upgrades Include:
Adds two extra SM units for a 4% increase in cores (Making this a fully enabled TU104 silicon. This is the same silicon used by the standard RTX 2080, as well as the 2070.)
9% frequency uplift for the base clock
6% increase for the boost clock. (Due to the way GPU boost works though, we anticipate this will be closer to a 3 to 4% increase in frequency.)
GDDR6 memory boosted to a peak data transfer speed of 15.5 Gbps (from 14 Gbps)

11% improvement in memory performance

TDP is now at 250 watts from 215 watts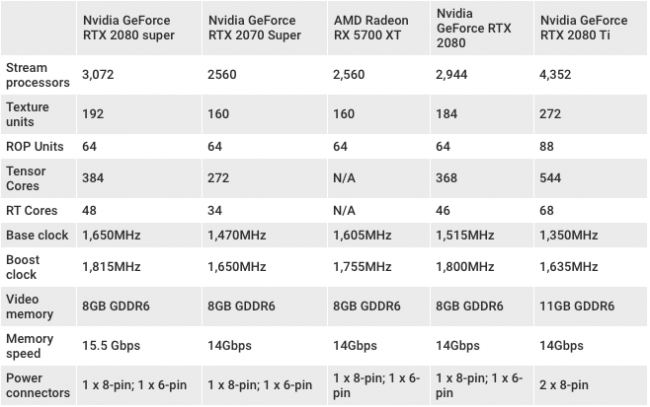 (Image source: https://www.anandtech.com/show/14663/the-nvidia-geforce-rtx-2080-super-review)
Have any questions? Contact: sales@sabrepc.com.