It's a new era of datacentric computing fueled by cloud, 5G edge computing, and artificial intelligence. Intel has an unparalleled portfolio of leadership products optimized for the 2nd Generation Intel® Xeon® Scalable processor that accelerates insights and business agility. The opportunities from server modernization are massive.
Maximize the value of data with faster analytics
Deploy and scale AI workloads on a single architecture
Boost hybrid cloud scalability, performance, and efficiency
Intel is delivering comprehensive and industry-leading platform capabilities to address the broadest spectrum of data center workload demands. Now is the time to modernize core data center infrastructure and ultimately drive business transformation.
What's New with the 2nd Gen Intel® Xeon® Scalable Processor?
Improved Turbo frequencies, up to 4.4 GHz
Enhanced Memory Support

Support for Intel® Optane™ DC persistent memory
Enhanced DDR4 performance support
AI acceleration with Intel® Deep Learning Boost (VNNI)
Intel® Security Essentials, a built-in foundation of core security capabilities
Enhanced Intel® Infrastructure Management Technologies
Integrated hardware-based security mitigations
The 2nd Gen Intel Xeon Scalable processor delivers compelling performance gains and TCO benefit for systems based on the Intel Xeon Silver and Intel Xeon Gold processors, creating a significant refresh opportunity. The original Intel Xeon Scalable platform delivered the biggest performance and TCO benefit for systems based on the Intel Xeon Platinum processor and continue to offer performance gains in the 2nd Generation as well.
Next-Gen Performance Gains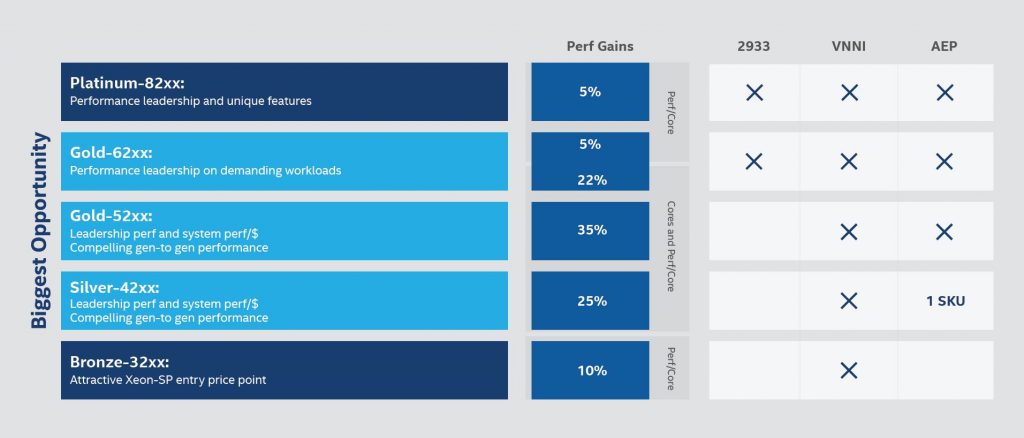 SKU Decoder
Help customers transition to 2nd Gen Intel Xeon Scalable processors. Familiarize yourself with the product numbering convention and understand which SKUs represent the biggest opportunity for your customers.
2nd Gen Intel® Xeon® Processor Scalable Family Product Numbering Convention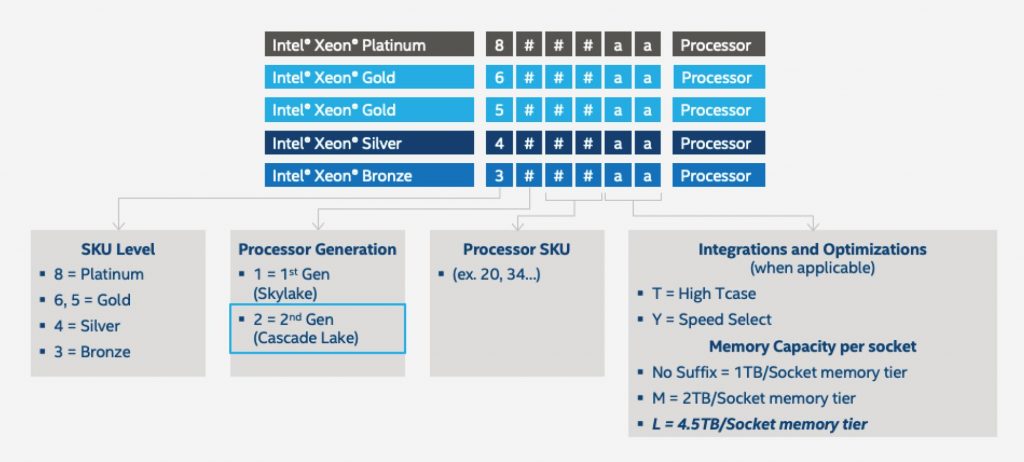 [supsystic-tables id=1]
[supsystic-tables id=2]