MSI has caught on to the crypto mining craze and released BIOSes for many of its motherboards. This will allow crypto miners to add more GPUs to their boards. Now, miners will be able to use 4 to 6 GPUs on more brands of the MSI motherboard. Since the new tide of cryptocurrency mining, suitable motherboards are in high demand, resulting in low supply in various stores. Because of Intel discontinuing the H81 and B85 chipsets, it's now difficult to find an economic mining motherboard.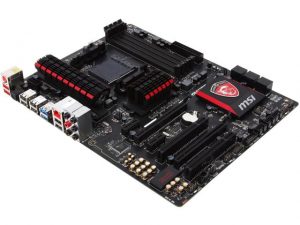 Several users who used the 100-series motherboards had issues enabling 5th and 6th GPUs on the motherboards by MSI. Even though the motherboard recognized the GPUs, it was not usable by the mining program. Hence, MSi picked a range of motherboards (Z170-A PRO, Z170A SLI PLUS, Z170 KRAIT GAMING, Z170A KRAIT GAMING, Z170A KRAIT GAMING 3X, Z270-A PRO, H270-A PRO) to test with multiple GPUs. Below are steps to update your boards for crypto mining purposes.
UPDATE BIOS
MSI patched the solution for PCIE device recognition on the boards mentioned above. The "above 4G decoding" option is added to BIOS which enables the motherboard to efficiently allocate resources for all the GPUs. Below are the steps on updating:
Download BIOS, E7a71IMS.120.
Copy it to the root folder of a USB drive.
Connect USB drive to motherboard USB port.
Start the system and enter BIOS.
Choose M-Flash.
Select Yes to continue flashing the bios.
After Bios Flash, boot the system up without adding any GPUs on the risers. Use Win10 64-bit as your preferred OS and install all the relevant motherboard drivers after the OS installation.
GRAPHICS CARD DRIVER INSTALLATION
Under BIOS setup, set Settings\Advanced\Integrated Graphics Configuration\Initiate Graphic Adapter to be IGD. As a result, this will enable you to use your MSI motherboard to its fullest capacity when mining. The steps are simple, and it's amazing how quickly MSI released new updates for its motherboard lineup.