On September 27th, 2022 Intel had their 2022 Intel Innovation Keynote hosted by Pat Gelsinger announcing many new products and advancements we have all been waiting for! While the keynote had a lot of other material we are going to focus on the juicy topics: Intel 13th Gen CPUs, and Intel Arc GPUs
Intel Arc has been on the horizon for quite some time now with our favorite tech reviewers teasing and showing us its capabilities for a sustainable and low-cost alternative to the pricier giants. Intel 13th Gen was announced to combat the recent release of AMD's Ryzen 7000 series CPUs.
Let us see how they fair:
Intel 13th-Gen Raptor Lake Release Date, Pricing, Specs
Formerly dubbed Raptor Lake, Intel 13th Gen will be released on October 20th, 2022 at a starting price of $294 (for its Core i5 variant). Below is a table of the Core i9, Core i7, and Core i5 specs:
| | Cores (P + E)/Threads | Base Clock | Boost Clock | Cache L2/L3 | Base/Max Power | Price K/KF Spec |
| --- | --- | --- | --- | --- | --- | --- |
| Core i9 13900K/KF | 24/32 (8P+16E) | 3.0GHz | 5.8GHz | 68MB | 125W/253W | $589/$564 |
| Core i7 13700K/KF | 16/24 (8P+8E) | 3.4GHz | 5.4GHz | 54MB | 125W/253W | $409/$384 |
| Core i5 13600K/KF | 14/20 (6P+8E) | 3.5GHz | 5.1GHz | 44MB | 125W/181W | $319/$294 |
The difference between Intel K and the KF is that the KF variant does not include Intel UHD Integrated Graphics but is slightly cheaper in price.
Intel 13th Gen vs Intel 12th Gen: Similarities and Differences
Intel 13th-Gen Raptor Lake will sit on the same LGA 1700 platform with support for DDR5 and PCIe 5.0 while still being backward compatible with DDR4 and PCIe 4.0, making this CPU a perfect upgrade path instead. Let us see what they changed:
More Cores and Per Core Performance
This generation about doubled the number of Efficiency Cores of every model over the last generation to improve their multi-threaded workload capability, something they lost to AMD's CPUs. Both Performance Cores and Efficiency cores also go a healthy 24% boost speeds delivering an additional 15% of single-threaded performance and 41% of multi-threaded performance.
Higher Clock Speeds
In the last generation, the top-of-the-line model Core i9 12900K had a peak frequency of 5.2 GHz while in Intel 13th Gen the Core i5 is clocked at 5.1GHz. As you go up the product line, the higher the maximum clock speed with the Core i9 hitting 5.8GHz.
Not only do these CPUs have extremely high clock speeds, but Intel also teased its plan to release a CPU that ships with a 6.0GHz from the factory in 2023 likely dubbed the Core i9 13900KS variant. We are excited to see these beefy CPUs perform in the real world.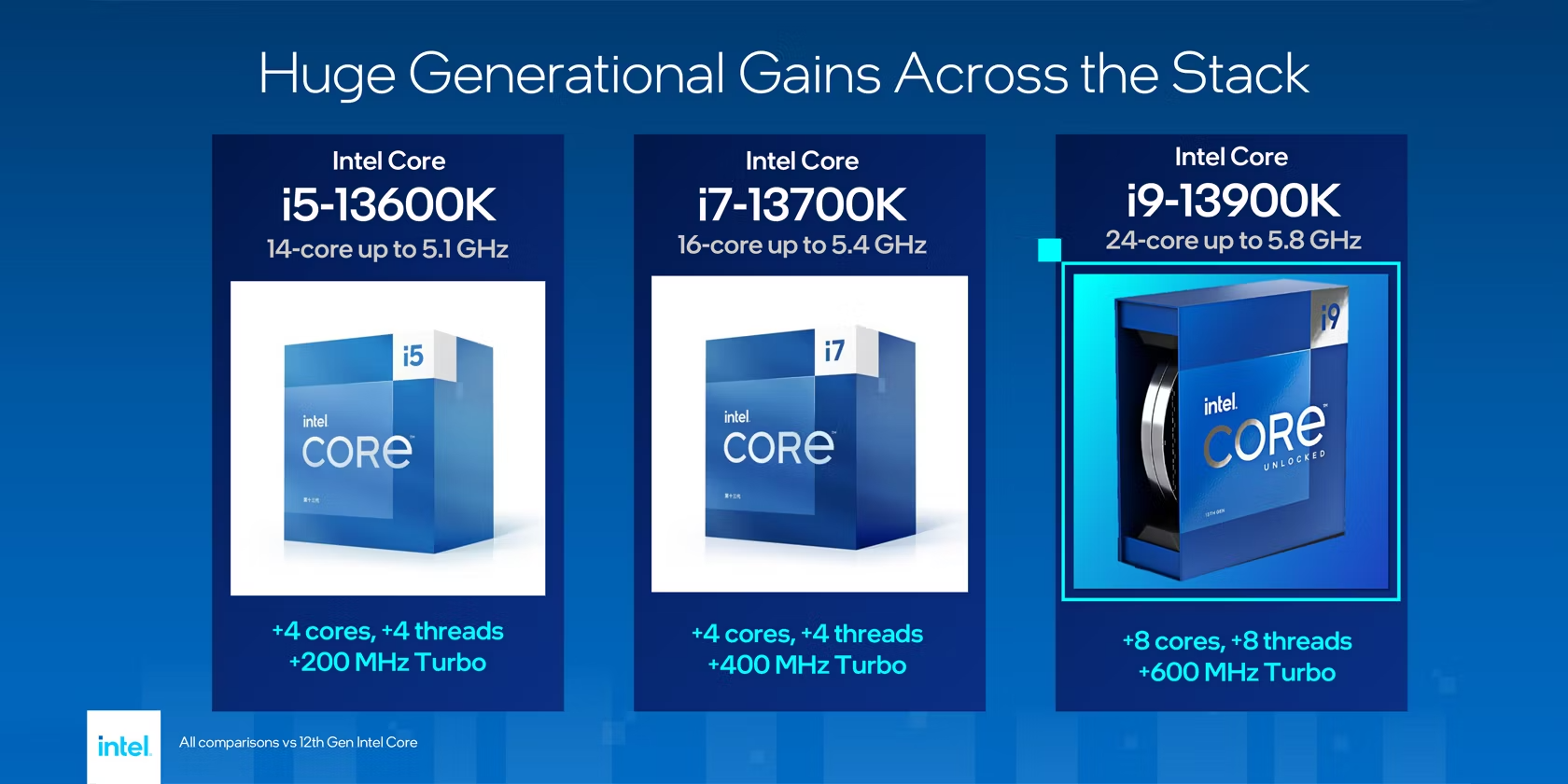 Large Cache Structure
Each model has a greater CPU cache than the last generation. After the big AMD release last year with the Ryzen 7 5800X3D and their 3D V-Cache technology, we saw what a large cache could do for an existing CPU. The 5800 broke records and is still leading in gaming benchmarks.
Intel is looking to follow suit (but not to that extent) by about doubling the size of the L2 and L3 cache. Cache is important because it is the short-term memory as RAM is placed directly on the CPU. By incorporating a large cache structure, the CPU can store and call upon preexisting data instead of making a distant journey to RAM when encountering and computing large assets. The closer memory is to a CPU, the less latency it takes to recall and process data.
More Power with More Efficiency.
With all this performance increase, the first thing we want to look at is the power draw. Surprisingly, each and every one of them has the same base TDP but requires more on turbo. During the presentation, however, Gelsinger noted that with a conservative tune, the 13th Gen CPUs at 65W can match the 12th-Gen's Peak 241W.
If you're not looking to have a space heater emitting from your gaming PC, undervolting and optimizing the clock speeds might be the best move to retain better performance while consuming significantly less power.
But if you want to fully send the CPU to its highest capabilities, at stock turbo, the i9 13900K performs 41% better than its 12th-Gen i9 counterpart. We always recommend waiting for 3rd party reviews and benchmarks prior to purchasing though, just to verify these claims.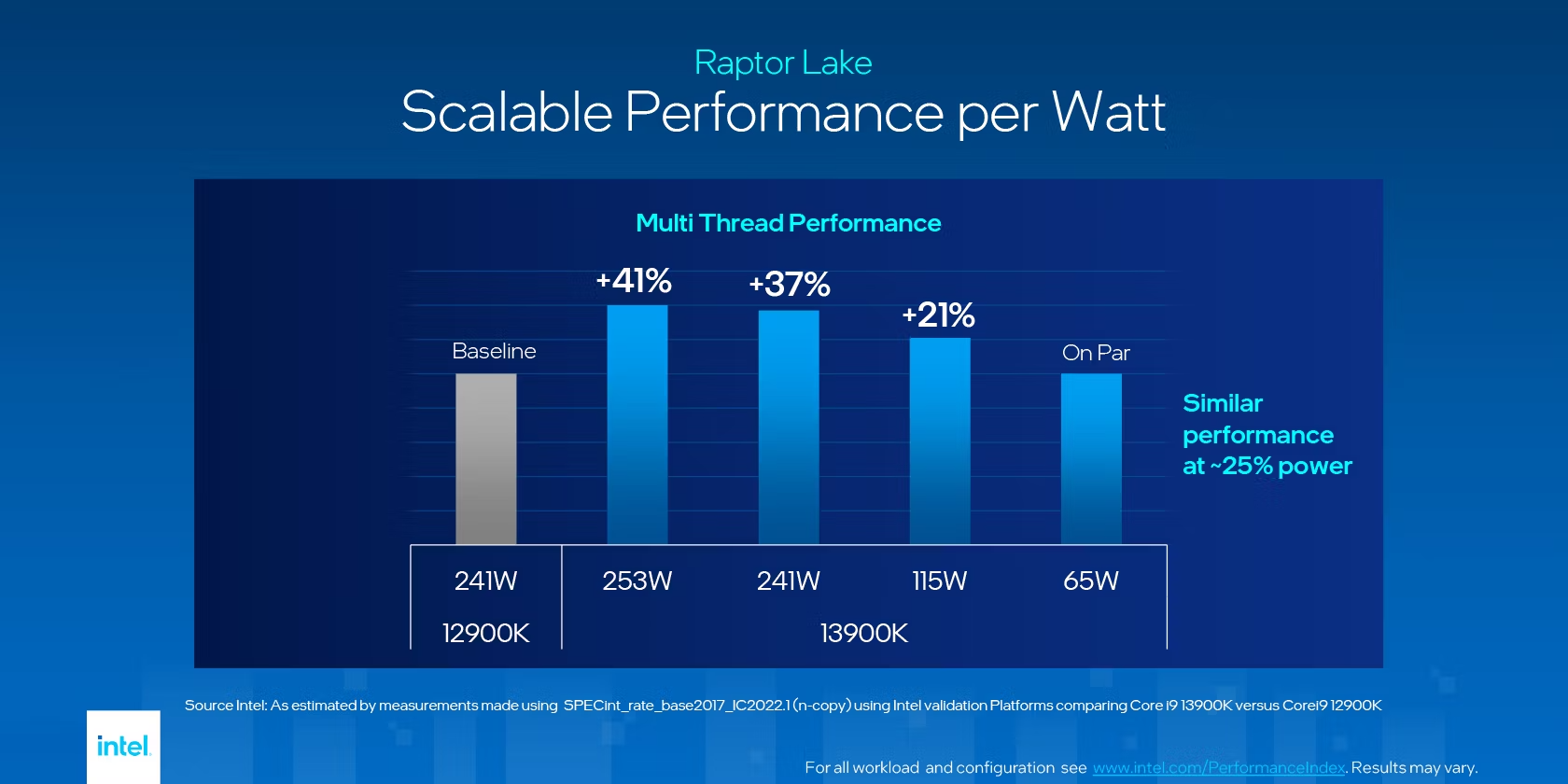 Pricing
Pricing between 13th Gen Raptor Lake and 12th Gen Alder Lake didn't change much. The i9 and i7 remain the same price as the last generation while the i5 got a price bump of $30. Considering the price-to-performance value of the Core i5 we still think that this CPU is well worth the price if it is just a better Alder Lake.
Our First Impression Thoughts
Intel is delivering a great performance uplift with Intel 13th-Gen. We are stoked to see how they do in real-world testing and applications. It is safe to say these CPUs are on a more developed LGA 1700 platform as opposed to AMD's new AM5 platform.
We think, that AMD looks to be perfect for those who have not upgraded in a while and could use the new platform to ensure upgradability. Intel, however, provides a health upgrade path for those already invested in prior generation Intel and are looking for a performance boost without having to shell out for a whole new motherboard and RAM setup.
If you are looking to build a confident gaming system or a well-equipped workstation for Deep Learning or Life Sciences, SabrePC offers a wide range of products, components, or even fully built systems exactly for your needs.