On November 3rd, 2022, AMD released their next generation RDNA 3 Radeon Graphics Cards the RX 7900 XTX and RX 7900 XT. These GPUs are built on their newest GPU architecture RDNA 3 utilizing a chiplet design for higher performance while still being energy efficient. We will share the specs and tech on what makes the newest AMD RDNA 3 GPUs so special.
AMD Radeon 7000 Series 45Pricing and Release Date and Specifications
The new RX 7900 XTX and RX 7900 XT will hit the shelves on December 13th both hitting price points under $1000, a stark difference to the competitor's leading GPU. While being more affordable than other current generation GPUs, the 7900 XTX and 7900 XT MSRP are actually cheaper than last generation launch prices.
| | | |
| --- | --- | --- |
| | RX 7900 XTX | RX 7900 XT |
| Compute Units | 96 | 84 |
| Memory | 24GB GDDR6 | 20GB GDDR6 |
| Stream Processors | 6,144 | 5,376 |
| Game clock | 2.3GHz | 2GHz |
| Boost Clock | 2.5GHz | 2.4GHz |
| Memory bus width | 384-bit | 320-bit |
| Infinity Cache | 96MB | 80MB |
| TDP | 355W | 335W |
| MSRP | $999 | $899 |
AMD's RDNA 3 architecture has claims of a 54% generational improvement leading them to claim a healthy performance uplift in gaming for the 7900 XTX by almost 1.7x their last generation 6950 XT.
Advancements in AMD RDNA 3 Architecture
The First Chiplet GPU
All GPUs dies were fabricated using a monolithic design. Monolithic fabrication means that an entire GPU will reside on a single square of silicon. Chiplet is where different components of the GPU are designed separately and then assembled together.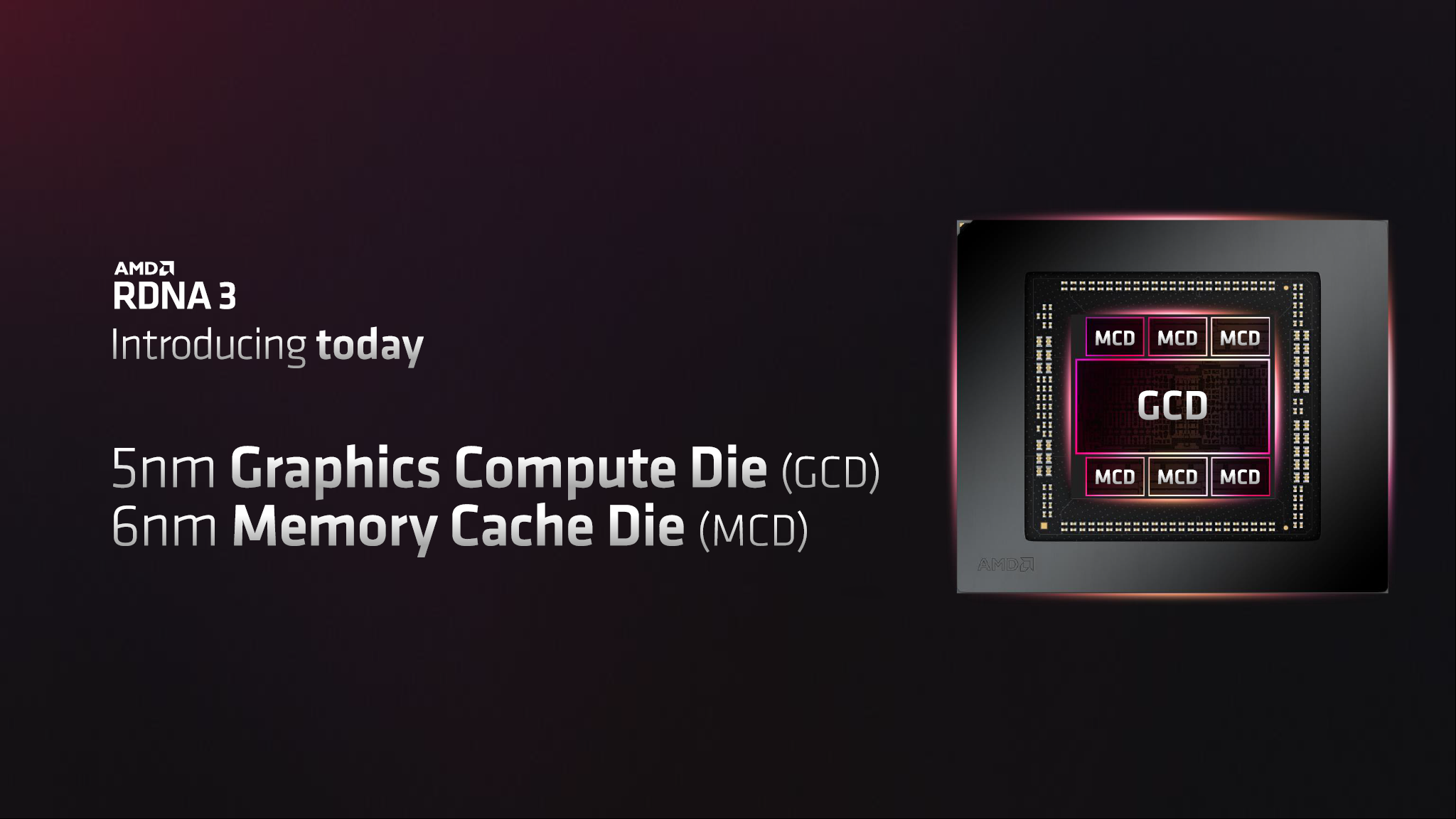 In silicon chip manufacturing, fabrication can lead to dead spots on a single wafer. Fabricating smaller dies means less wasted material from a naturally circular silicon ingot since square/rectangular chips can hug the edges better as well as minimize obsolete chips from dead zones.
Apart from cutting costs, AMD chose to fabricate the RDNA 3 GPU die with a chiplet architecture to reduce cost and add modularity to their GPU lineup while optimizing efficiency.
RDNA 3 has up to 61 TFLOPS of computing, up to 24GBs of GDDR6 and high speed 5.3 TB/s of chiplet interconnect for a 54% generational improvement in performance per watt.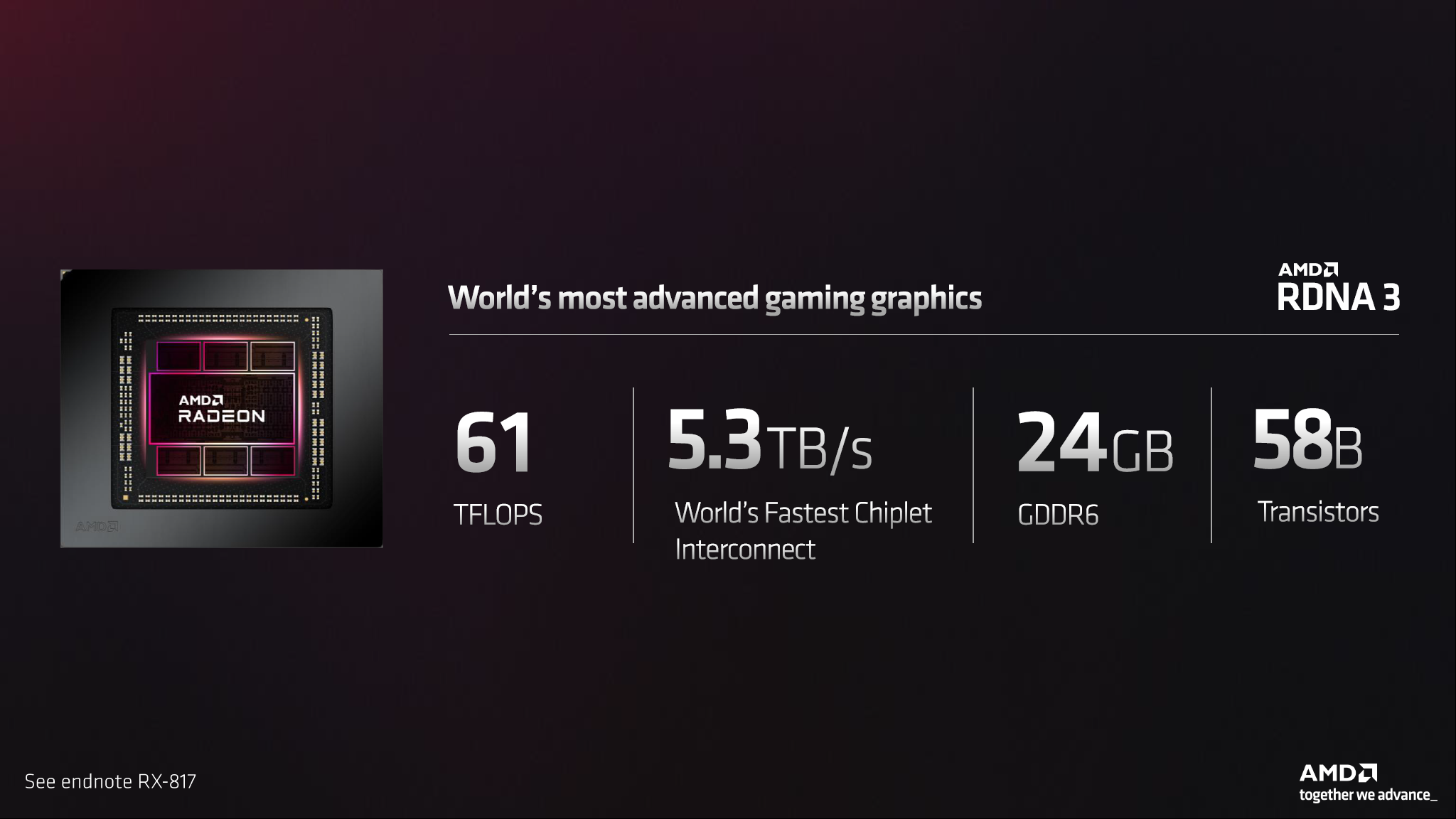 Decoupled Clocks
Speaking of efficiency, AMD has opted to decouple the clock speeds of GPU, splitting the front-end and shader clock speeds as separate units. This way, the GPU can save on power when games are not as demanding on the shader units. AMD's decoupled clock structure reduces power consumption by up to 25%.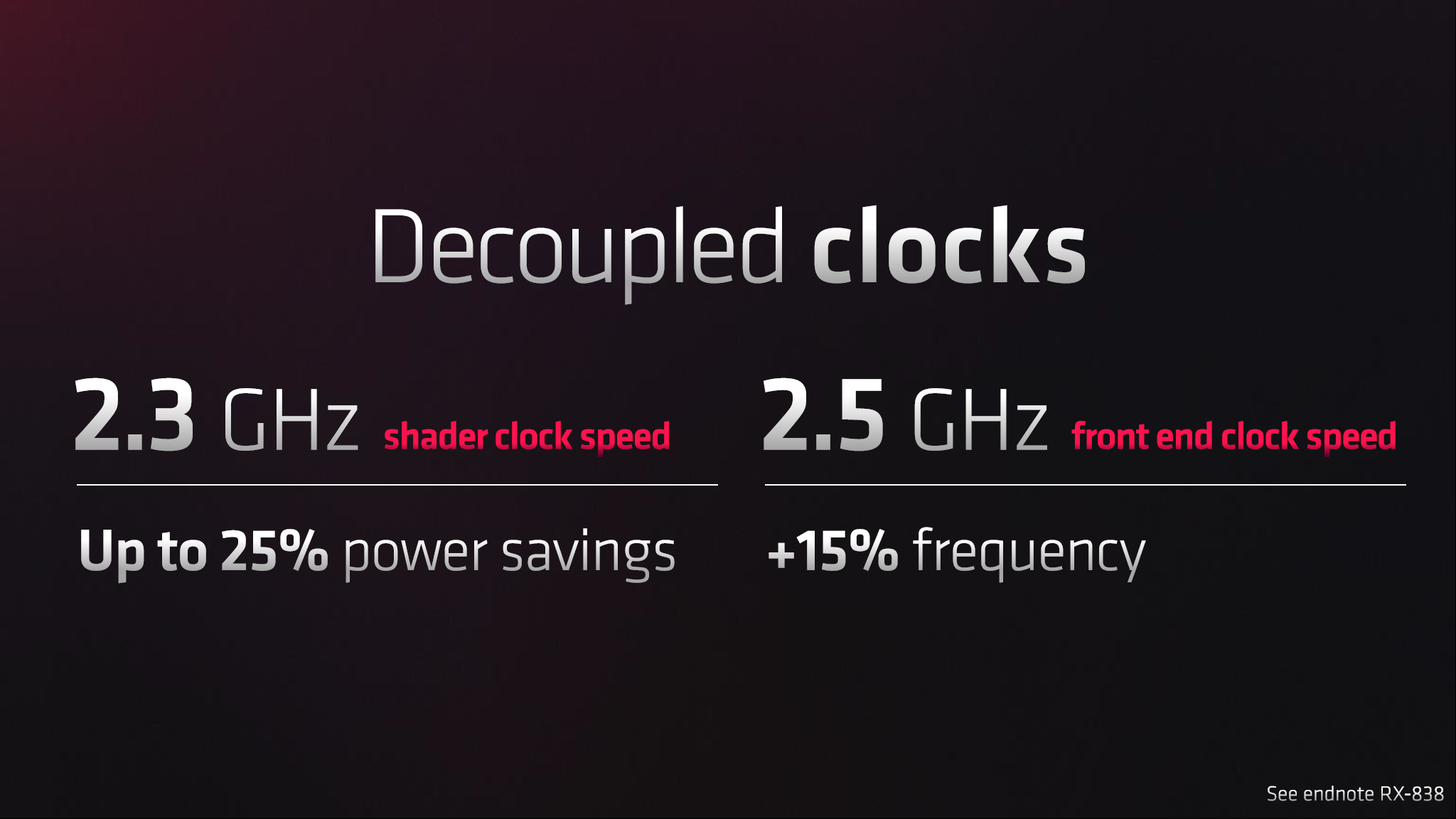 FSR 3.0
AMD announced their newest addition to their platform called FidelityFX Super Resolution or FSR 3.0. FSR 1 and 2 at first took lower resolution images in games and upscaled them to lighten the workload on the GPU while providing playable higher framerate and pseudo image quality.
FSR 3.0 will take it a step further and increase framerate by developing additional framerates. For example, in a frame count, FSR 3.0 will generate frame 2.5 and frame 3.5 while frames 2, 3, and 4 are native frames. Since FSR 1.0 and 2.0 were open source, we expect FSR 3.0 to also be open source meaning that it can be used on any GPU or hardware. FSR and DLSS have been competing for years and while NVIDIA's DLSS is more polished, it only works on NVIDIA products, putting their tech behind a wall. AMD's open-source approach means that FSR would hopefully be more mainstream.
AV1 Encode Decode
AV1 Encode and Decode is also a great addition to these graphics cards, especially for recording gameplay or streaming gameplay. Incorporating AV1 into flagship GPUs now seems like the standard of having a top-tier card with NVIDIA, and Intel also incorporates AV1 in their graphics cards.
AMD also reiterated their SmartAccess Video which enables the distribution of encoding and decoding workloads between AMD CPUs and AMD GPUs for a potential 30% uplift in performance. By being an established company in both Graphics and CPU markets, AMD aims to reward those who use their platform.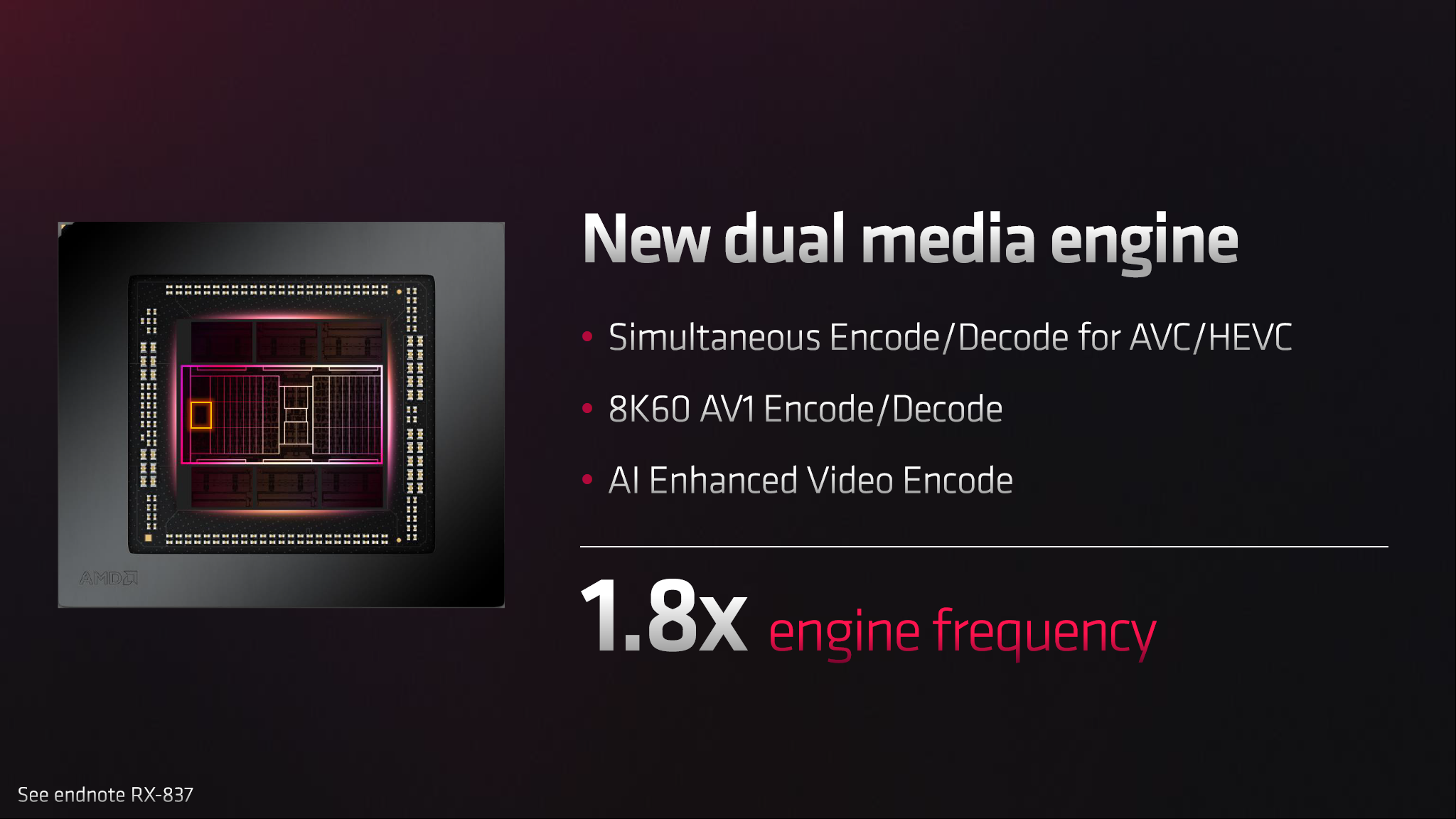 Display Port 2.1
AMD took it upon themselves to include something that gamers all around the world wanted to see; Display Port 2.1. Next-generation Display Port 2.1 enables the highest threshold of graphics for up to 4K 480Hz and 8K 165Hz for next-generation video output.
Current-generation graphics won't be able to max out DP 2.1 high-definition displays but will make the connector a standard for next-generation graphics. DP 2.1 is future-proofing and introducing a new standard to encourage graphical support for DP 2.1.
Last Remarks
During the keynote, AMD didn't show any concrete demonstrations, nor did they show benchmarks against competing cards. A lot of the presentation numbers of the two GPUs were very hush-hush with ambiguous numbers. But what we do know is that if RDNA 3 GPUs can outperform RDNA 2, then AMD might stand a chance against competitors solely based on price to performance. AMD has positioned itself at a price point that can be hard to compete against if the new RX 7900 XTX and 7900 XT hold up to the performance claims.
The RX 7900 XTX will start at $999 while the RX 7900 XT will start at $899 with their release date on December 13th.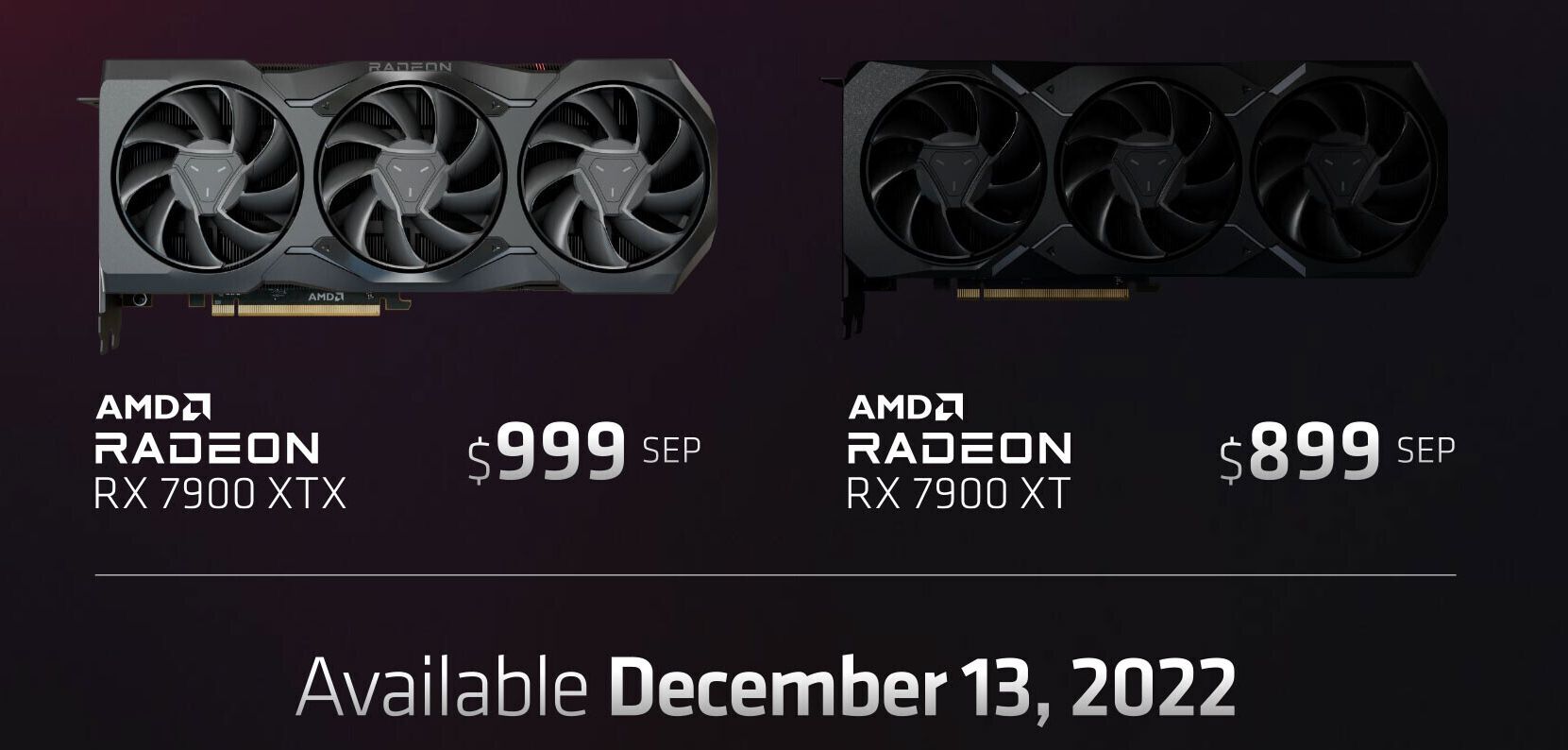 ---
SabrePC is a proud supplier of thousands of computer components as well as a computer solution builder for Deep Learning or Life Science applications. Contact us to learn more!